Business fraternity to bring fashion to campus this week
---
Alpha Kappa Psi, a co-ed business fraternity and UT student organization, will host a fashion show titled "A Fashion Affair" Thursday, April 9, at 8 p.m. in the Student Union Auditorium.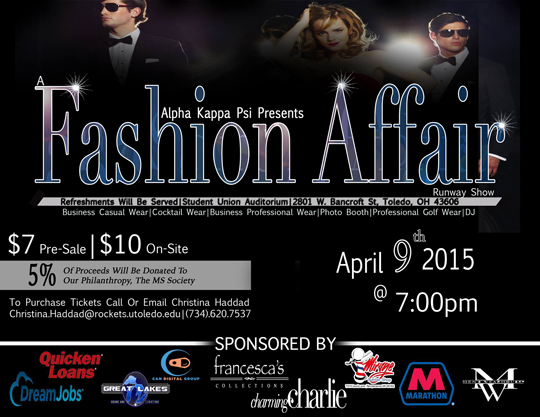 Doors will open at 7 p.m. for the event that will feature students from various UT organizations who will display four different outfits: business professional, business causal, women's cocktail wear and men's golf wear.
"'A Fashion Affair' will be an event that's going to bring the college community together as one for a night," said Christina Haddad, event organizer and UT senior majoring in marketing and professional sales. "Seeing different organizations support their fellow members who are up on stage is going to be the highlight of the night."
Outfits will be provided by the event's prime sponsors: Men's Warehouse and Francesca's Collections. Additional sponsors include Quicken Loans, Marathon Petroleum Corp., Dream Jobs, Great Lakes Sound and Lighting, Can Digital Group, Charming Charlie and Mirage Barber Shop.
"I created the event to basically share my knowledge of what I've learned in Alpha Kappa Psi and to promote that to other organizations," Haddad said. "I want to take our business etiquette techniques that we've used and hand that off to other people who aren't in the College of Business and Innovation and even to people in the College of Business who don't technically know how to dress professionally or casually."
The show will feature a photo booth, snacks, mocktails, a DJ and a chance to win door prizes, which include ties from Men's Warehouse and gift cards from Francesca's and Charming Charlie.
"Besides having a love for fashion and wanting to share my passion, I also wanted the fashion show to be a way to bring together all organizations." Haddad said. "I know we have the Big Event and other community service events where organizations come together, but we don't have something, besides Songfest, where organizations come together and cheer each other on and that's kind of what I wanted, while also bringing a fashion sense to the community."
Five percent of the proceeds will be donated to Alpha Kappa Psi's philanthropy, the Multiple Sclerosis Society.
Tickets are $7 in advance at Ask Rocky in the Student Union through Wednesday and will be $10 at the door.
For pre-sale tickets or more information, contact Haddad by emailing christina.haddad@rockets.utoledo.edu or calling 734.620.7537.