UT College of Law's OUTLaw and Equality Toledo to present on LGBTQ employment rights
---
The University of Toledo College of Law's OUTLaw student group and Equality Toledo will present a free information session on LGBTQ Employment Rights Tuesday, April 12, from 7 to 8:15 p.m. in the Law Center McQuade Law Auditorium.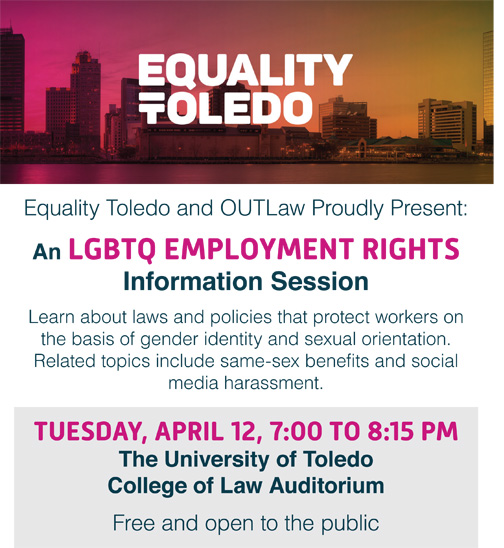 Presenters Lolita Davis from the Equal Employment Opportunity Commission in Detroit and attorney Kera Paoff of Widman and Franklin LLC in Toledo will lead the information session. Topics will include laws and policies that protect gender identity expression and sexual orientation in the workplace, same-sex benefits, and social media harassment.
"Ohio is one of the states that still permits employment discrimination against LGBT people. This program will give attendees a perspective on legal trends, as well as practical advice on how to effectively handle claims of discrimination by employers," said Robert Salem, clinical professor of law and chair of Equality Toledo's Board of Trustees.
OUTLaw is a law student-run organization whose mission is to "to advance civil rights and promote tolerance for people of all sexual orientations and gender identities." According to its website, Equality Toledo, a local nonprofit, "works to eliminate discrimination in our region based on sexual orientation, gender identity, and gender expression through education, activism, and other anti-defamation efforts."