Learn about world at Toledo Sister Cities International Festival
---
At the fourth annual International Festival, guests will get a glimpse of the many diverse cultures around the world.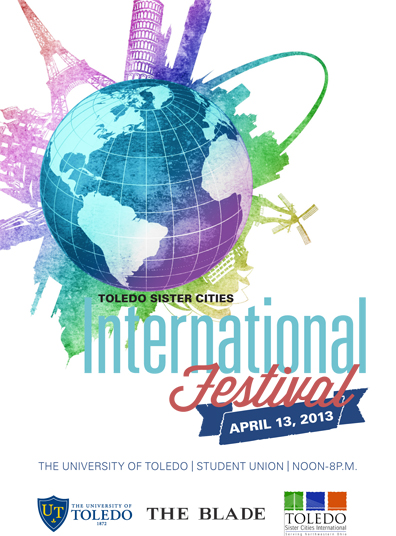 The event will take place Saturday, April 13, from noon to 8 p.m. in the Student Union Auditorium on The University of Toledo's Main Campus.
Guests will celebrate the cultures of Toledo's Sister Cities from Spain, China, Hungary, Poland, Japan, Tanzania, Germany, Lebanon, Pakistan, India and more.
"Toledo Sister Cities International is very excited to partner with The University of Toledo for this special event," said Dr. Susan Miko, executive director of Toledo Sister Cities International. "The International Festival has grown each year and has been well attended by community members, but this new venue provides an opportunity for college students to more easily participate."
Throughout the day, there will be performances featuring traditional music and dance from countries around the world. Ethnic restaurants in the Toledo area also will offer traditional cuisine. Beverages for purchase, including beer, wine, soft drinks and coffee, round out the menu selections.
In addition, the festival will feature a language corner, where attendees can learn basic phrases in any of the 15 languages offered. There also will be informational booths and craft vendors selling homemade international items and souvenirs.
"The opportunity to share the food, music, entertainment and educational facets of many different cultures is what makes this festival so unique," Miko said.
There will be 50/50 tickets for sale during the day along with tickets for a bag raffle. Parking will be free and available throughout Main Campus with volunteers to guide visitors to the event.
Admission is $5 in advance and can be purchased at Rocket Copy, located in Student Union Room 2525. At the door, the price will be $5 for UT students with Rocket IDs and seniors 65 and older, and $7 for general admission.
Because this event coincides with Lil' Sibs weekend at UT, students can bring their younger siblings for free with purchase of their own ticket. All children 10 and younger are free, but must be accompanied by an adult throughout the event.
For more information, visit toledosistercities.org or like them at facebook.com/ToledoSisterCities.