Roll up: Rocket Wheels is back
April 12, 2018 |
UToday
By Staff
---
As spring weather returns, students and employees are beginning to spend more time outside. Suddenly, that walk to Rocket Hall from Carlson Library doesn't seem so bad.
For those who may not prefer to walk everywhere, however, another option exists: Rocket Wheels bike sharing program offers UT students and employees an alternative to trekking across campus and looking for parking spots.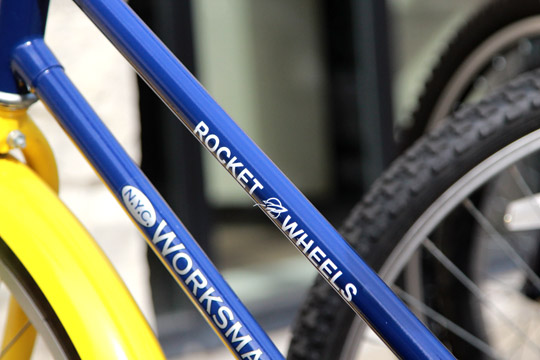 "It is free and easy to use. Current students, faculty and staff can sign up online on the bike share website [bikeshare.utoledo.edu] and check out a bike that day as long as the ID is valid," said Diana Watts, UT transit and Rocket Wheels bike share coordinator. "It's a healthy way to get around campus. Most campus buildings have bike racks very close to an entrance; it's better than circling around for the nearest parking spot."
Designed by Facilities and Construction, Rocket Wheels has a station at every corner of Main Campus. Users can check out and return a bike at corrals outside the east and west parking ramps, and by Rocket Hall near the horse sculptures, North Engineering/Palmer Hall, and Ritter Planetarium.
Watts said borrowing a bike is easy: "Rocket Cards are used for swipe access at the key box machines. Then select a bike number on the screen, the key area will light up, and the door will make a sound for the user to open. The keys can be returned to any location. All you have to do is hold the key up to the scanner and the door will unlock. The user then returns the key back to the slot that is lit up. You don't even have to swipe your card to return a bike."
She also emphasized bike safety.
"We would like everyone to follow the rules of the road and wear a helmet for protection," Watts said. "The Campus Safety Committee would like to remind everyone to lock bikes up at designated racks and corrals on campus. Please do not block walkways or doorway areas with locked bikes that may prevent accessibility to persons with disabilities."
Signing up for the bike share program takes only seconds and can be done at bikeshare.utoledo.edu. Those with a valid UT ID need their username and password to enroll.
For more information on Rocket Wheels, visit utoledo.edu/rocket-wheels.