UT organizations to host Wellness Fair April 20
April 13, 2018 |
UToday
By Jessica A. Guice
---
Finals are approaching, causing increased stress levels for UT students. To battle the stress, the Alpha Omega chapter of Chi Sigma Iota and Juice House are hosting the 2018 Wellness Fair.
The Wellness Fair will take place Friday, April 20, from 4 to 6 p.m. in Health and Human Services Building Room 1711.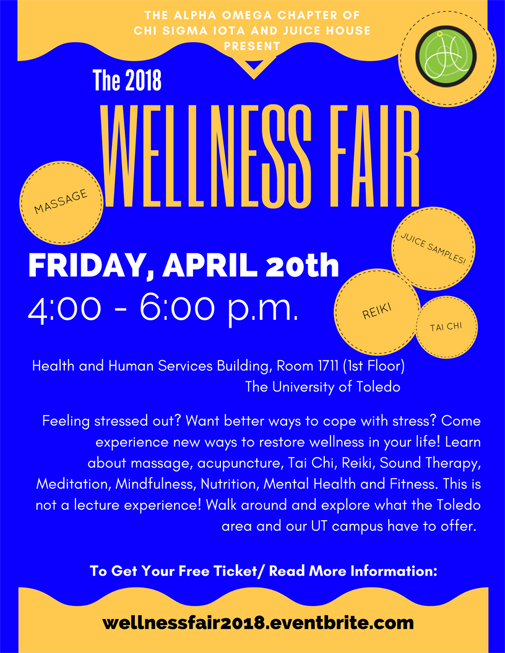 The purpose of this event is to promote wellness within the student community. It also will educate people on the meaning of wellness and how it can be restored.
"We hope to enlighten people's views of what wellness is, besides just physical and nutritional wellness," said Clark Ausloos, UT student and licensed professional counselor. "Wellness is multifaceted and encompasses mental health, spirituality, financial health, social health and occupational health, as well."
During the event, participants will learn about acupuncture, Reiki, sound therapy, meditation and Tai Chi.
In addition, vendors will provide chair massages and free samples of fresh juice and essential oils.
"Wellness impacts everyone. We hope to expand the notion that wellness is only about your diet and nutrition," Ausloos said. "With final exams coming up, we hope this offers a way for students to decrease stress and foster their own self-care."
For more information and to register for the free event, visit wellnessfair2018.eventbrite.com. Registrations are requested by Wednesday, April 18.