Toledo Sister Cities International Festival to come to Main Campus April 18
---
The Toledo Sister Cities International Festival will take place Saturday, April 18, from noon to 7:30 p.m. in the Student Union Auditorium.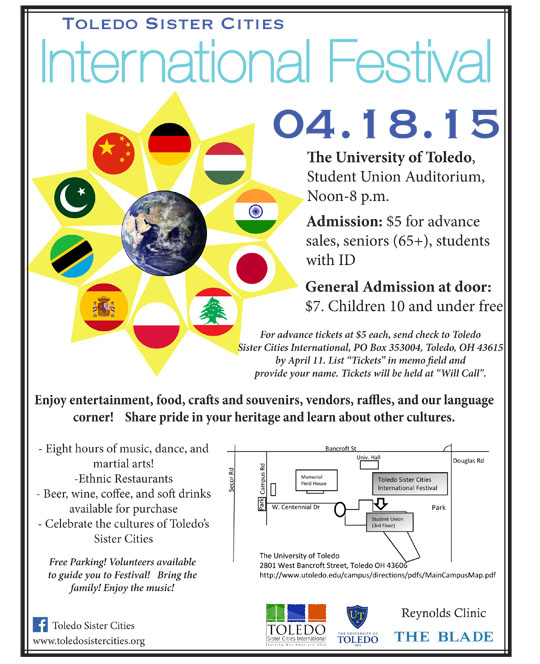 This sixth annual event will feature nearly eight hours of international performances, including music, dance, karate, as well as ethnic food from area restaurants and cultural exhibits. More than 20 entertainment groups and 10 sister organizations will be represented.
A parade of nations will open the festival at 12:10 p.m. There will be crafts and souvenirs, vendors, raffles and a language corner.
The UT Center for International Studies and Programs is one of the co-presenters along with the Toledo Sister Cities International.
"This partnership with the International Festival reflects the center's mission to facilitate cross-cultural interaction among students, faculty and staff that leads to better global understanding," Dr. Sammy Spann, vice provost for international studies and programs, said. "We hope to see the UT community turn out for this event."
The UT Foreign Languages Department also is involved, hosting language activities, where students and professors share their linguistic and cultural experiences with visitors.
In addition, Rocky and Rocksy will visit the festival from 4 to 6 p.m.
Tickets are $5 in advance. Admission at the door will be $7 and $5 for seniors 65 and older and students with ID. Parking will be free.
For more information on the collaborative event of Toledo Sister Cities International and The University of Toledo, click here, see Facebook at Toledo Sister Cities, or contact Eric Bergman, festival publicity chair, at 419.260.2553.