BCSN coverage of spring football game to be streamed on Web
---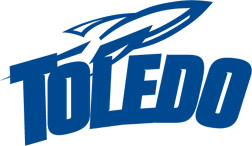 The University of Toledo 2009 spring football scrimmage Friday, April 17, will be broadcast on Buckeye Cable Sports Network (BCSN) and also streamed live on RocketVision on the official UT Athletics Web site, www.utrockets.com.
BCSN will show the game on a tape-delay basis at 11 p.m. Calling the action for BCSN will be Matt Melczak, Mike Jewell and Natalie Grise.
Kickoff in the Glass Bowl is scheduled for 7 p.m. Admission for the game is free.
RocketVision will offer the spring football game as a free event.
RocketVision is a subscription service that offers live video streaming of Rocket home football, and men's basketball and women's basketball games. Selected away contests as well as coverage of some contests in other UT sports also are available on RocketVision.
WSPD-AM 1370, home of Rocket football for 42 years, also will carry the spring game live. Mark Beier, voice of the Rockets for the past 13 seasons, will call the action.
The spring game will be a true scrimmage with the Rockets divided into Blue and Gold teams. The score and clock will be kept per normal NCAA rules, except that the second half will feature a running clock.
Six former Rockets will return to the Glass Bowl to serve as guest coaches. On the Blue team will be Mike Bell, Bruce Gradkowski and Jalen Parmele. On the Gold side will be John Greco, Wasean Tait and Tom Ward.
Rocket football alumni also will gather at 4:30 p.m. for a pre-game barbecue at the Varsity 'T' Pavilion, located south of the Glass Bowl.
First-year head coach Tim Beckman will host a "meet and greet" event in the Stadium Club (first floor of the Press Tower) from 5:30 to 7 p.m. The event, presented by the Toledo Blade, costs $25 and includes an autographed item from Beckman as well as tailgate food and beverages. Tickets may be purchased at the Savage Arena Box Office or by calling 419.530.5316.
After the game, Rocket players will sign autographs in the West Concourse underneath the Press Tower.