UT-hosted DNA repair symposium bringing national experts to campus
---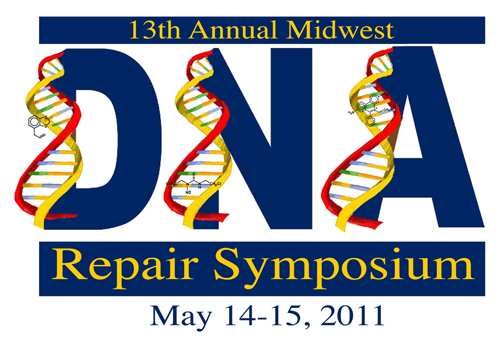 It's a professional discussion at the cellular level, with special relevance to cancer research. The 13th Annual Midwest DNA Repair Symposium (AMDRS) will take place Saturday and Sunday, May 14 and 15, at the Dana Conference Center on The University of Toledo Health Science Campus.
The AMDRS, which began at the University of Michigan, has been hosted at various universities across the Midwest since 1999. This will be UT's first hosting of the event that was originally conceived as a forum to bring together DNA repair researchers from the Midwestern region to discuss ongoing research and stimulate collaborations.
Dr. Kandace Williams, UT professor of biochemistry and cancer biology, who is one of the symposium's co-chairs, explained the topic's importance. "DNA repair is a critical process to maintain genomic stability and remove DNA damage that could result in genomic mutations," she said. "Disruption of the DNA repair pathways has been linked to many inherited cancers as well as many sporadic cancers."
Understanding these DNA repair pathways and how the body regulates them will have a significant impact on human health, she added.
A successful annual event with regularly increasing attendance, the AMDRS is in its second decade, and since its inception, this symposia series has been extremely successful — not least because of its affordability, said Dr. Steve Patrick, UT associate professor of biochemistry and cancer biology, and symposium co-chair. "To keep the cost of attendance low, the organizers for each year hold the symposium at their home institutions and secure intramural and extramural funding to cover some of the major expenses," he explained.
The benefits of attendance extend beyond seasoned researchers, he added. "The AMDRS provides students, postdoctoral fellows and beginning independent investigators with the opportunity to present their work to peers and interact with leaders in the field."
It's one meeting to which principal investigators have been able to bring their entire labs, he noted. 

Keynote addresses and speakers will be:
• "Random Mutations in Human Cancers: Origins and Consequences" by Dr. Lawrence A. Loeb, professor of pathology and biochemistry at the University of Washington School of Medicine, Seattle;
• "The Good, the Bad and the Ugly Related to ERCC1-Deficiency" by Dr. Laura J. Niedernhofer, associate professor of microbiology and molecular genetics at the University of Pittsburgh School of Medicine; and
• "Function and Control of Translesion DNA Polymerases" by Dr. Graham C. Walker, American Cancer Society Research Professor and HHMI Professor of Biology at Massachusetts Institute of Technology.
Also, Dr. Bernard S. Strauss, professor emeritus of molecular genetics and cell biology at the University of Chicago, will speak at the Saturday evening banquet on "50 Years of DNA Repair and Mutation Research."
Further information, registration and abstract submission for the symposium can be found online at www.utoledo.edu/med/depts/biochem/symposium. Abstract deadline is Tuesday, April 19.
Registration for the symposium also can be done on the first day of the symposium, Saturday, May 14, at 10 a.m. in the Dana Center Atrium.
For further information, e-mail anna.chlebowski@utoledo.edu.