A story of love, loss and human resilience
---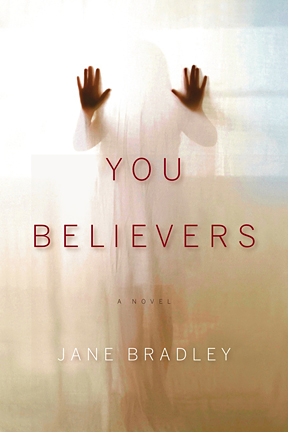 It happens every day: People go missing.
That horrific reality is the basis for Jane Bradley's haunting new book, You Believers, a novel that grapples with living with loss and the redemptive power of love.
The UT professor of English befriended her real estate agent, who shared the story about her daughter, Peggy Carr, who was carjacked and murdered.
"She knew I was a writer when she met me, and when she kept telling me of the beautiful life and horrible end of her daughter," Bradley said. "I kept thinking this would be an amazing story, but it felt too intrusive to ask to do such a thing. So I didn't."
But then she had a dream that prompted her to ask, and Carr's mother gave her blessing.
"It was a much more difficult, painful and tricky venture than I had dreamed any writing could be. I'd start and stop," Bradley said. "Then as life would have it, I lost two sisters, a brother-in-law and my dad in a very short period of time, and I had to move south to raise my niece who had lost both parents."
While dealing with her grief, she realized how she could tell Carr's story.
"I'd move it all to the South. I'd have to make it about the search for faith in a mortal world that can randomly stun us with loss," she explained. "I had to learn from losing half my family, and I had to teach my niece how to push on. With this experience, I at last felt capable of writing a book of such a tangle of grief and hope, of love and sorrow, a story that shows that through loss we can not only survive, but grow."
Bradley will read from
You Believers
Thursday, April 21, at 5:30 p.m. in Libbey Hall and then sign books.
It took more than five years to write the 406-page work, which she stressed is fiction.
"This is not Peggy's story. I had to respect her privacy and the privacy of her loved ones. So I made up a story inspired by Peggy's story," Bradley said. "And I can tell you that sometimes it takes a work of fiction to get at the truth. I didn't want to give the true details of Peggy and her loved ones. I simply wanted to get at the truth of how the beautiful, powerful gift of life can be randomly snatched away. I wanted to tell the truth of how people can live through their worst nightmares and come through it not better maybe, but certainly and deeply changed.
"The result is a novel about the struggle for faith in a random world of loss and violence. I worked to answer the questions of how we stay steady in a world of emotional earthquakes."
You Believers, Bradley's fifth book, will be for sale at the reading and can purchased at the UT Bookstore.