Earth Fest celebration to take place April 19-21
---
The University of Toledo's 17th annual Earth Fest will take place Tuesday and Wednesday, April 19 and 20, on Centennial Mall and Thursday, April 21, in the Nitschke Hall lobby from 11 a.m. to 2 p.m. each day.
Earth Fest is sponsored by Building Ohio's Sustainable Energy Future, the Society for Environmental Education, and the Sustainability, Energy Efficiency and Design Initiative. It is meant to be a celebration that the entire campus and community can be a part of.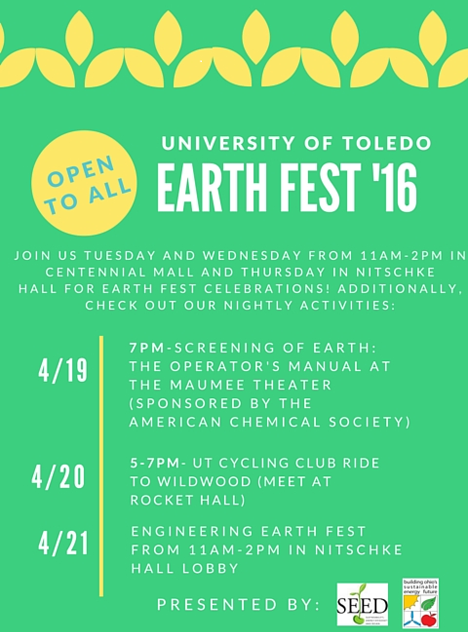 "We want people to come out, have some fun, get their hands a little dirty if they want, but mostly walk away motivated with a larger perspective," said Evan Nichols, a junior majoring in chemical engineering.
Each day of Earth Fest will feature booths, giveaways, green do-it-yourself projects, and information from campus and community members of local Earth-friendly organizations.
This year, students can exchange 10 disposable shopping bags for a reusable one or 10 single-use water bottles for a reusable bottle. There also will be a recycling scavenger hunt, and participants will have a chance to win one of 10 $10 Chipotle gift cards. Participants also will have the opportunity to build a personal container garden or micro-green incubator.
Other Earth Fest week events will include a free screening of "Earth: The Operator's Manual" by the American Chemistry Society Tuesday at 7 p.m. in the Maumee Indoor Theater, 601 Conant St.
And there will be an organized bike ride Wednesday evening. Bikers will depart from the Rocket Hall bike share area at 5 p.m., ride on the University Parks Trail to Wildwood Preserve Metropark, and return to Rocket Hall around 7 p.m. Toledo Bikes!, a local nonprofit, will be on campus to offer free bike tune-ups before the ride. Learn more about Rocket Wheels, UT's bike share program, at http://utole.do/rocketwheels.
"We hope that everyone will get energized and excited by the event and will take steps to make their daily life more environmentally friendly," said Brooke Mason, senior environmental engineering major, who is one of the event's main organizers. "Everyone can take little steps to make the Earth a better place, whether that's turning off lights when they're not in use or using a reusable shopping bag or water bottle."
For more information on Earth Fest, contact Mason at brooke.mason@rockets.utoledo.edu or Nichols at evan.nichols@rockets.utoledo.edu.