Jam out while raising awareness about human trafficking
---
With Ohio ranking as the fifth highest state in regard to human trafficking, it is integral for the Toledo community to bring attention to the issue.
The International Justice Mission will host Traffic Jam UT, a carnival-themed event to raise awareness on human trafficking.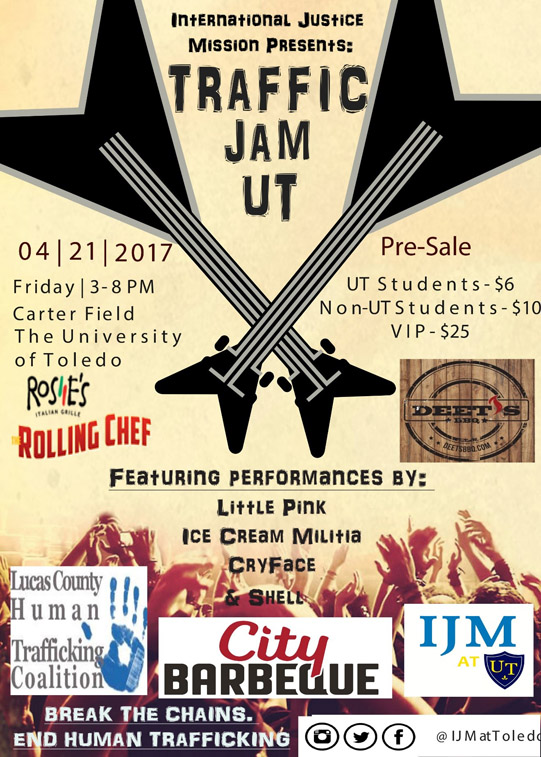 The event will take place Friday, April 21, from 3 to 8 p.m. at Carter Field. If it rains, the Traffic Jam UT will be moved to the Health Education Center.
Tickets are $6 for students, $10 for non-students, and $25 for VIP passes, which grant entrance and allow unlimited games and prize drawings.
Tickets can be purchased at Ask Rocky in the Thompson Student Union or at the International Justice Mission table in the Thompson Student Union Thursday, April 20, from noon to 2 p.m.
"Traffic Jam UT is our mild approach to raise awareness on human trafficking," said Areeba Shah, UT sophomore and vice president of International Justice Mission. "Students should attend to show their support. Even though the problem may not directly affect them, they will learn about human trafficking and its impact on Toledo. At the same time, they will be able to enjoy themselves and have a great time with friends and family." 
The event will feature performances from Little Pink, Ice Cream Militia, Cryface and Shell. There also will be carnival games, 50/50 drawings and a prize basket drawing.
Food trucks from Deet's BBQ and Rosie's Italian Grille also will be there.
"A lot of the times, people feel uncomfortable when it comes to the topic of human trafficking and would rather not talk about it," Shah said. "However, ignoring the issue doesn't make it disappear. It is our reality, and if we don't at least recognize this problem, we'll never be able to work toward a solution." 
Proceeds from the event will go toward fighting human trafficking in the community.