University Libraries going green with recycling drive
---
Carlson Library will host a recycling drive just in time for move out. Students leaving campus for the summer are invited to recycle and enter to win reusable zero-waste products.
The drive will take place on the first floor of Carlson Library from 11 a.m. to
3 p.m. Monday and Tuesday, April 22
and 23.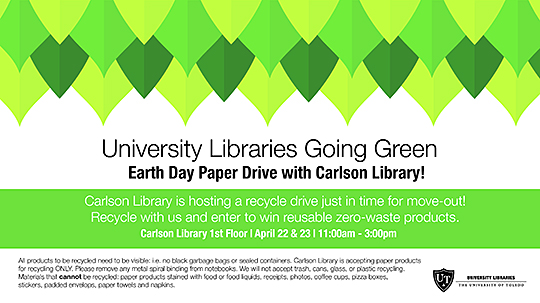 "The library has not typically participated in Earth Day programming in the past. This year we wanted to tackle an issue we see every day in this building — paper waste." said Alyssa Jane Slottke, event coordinator for University Libraries.
"Most students associate the first floor of Carlson Library as the printing station. The library wanted to bring awareness to the excess of paper still being used in the digital age with an event focused around making a positive change to enforce behaviors hopefully our students will take with them," she said. "To drive home the importance of recycling, the library wanted to provide the service at a time so close to move-out when there is so much waste."
All products to be recycled need to be visible; no black garbage bags or sealed containers. Carlson Library only will accept paper products for recycling. Please remove any metal spiral binding from notebooks.
Trash, cans, glass and plastic will not be accepted, Slottke said. Paper products stained with food or liquids, receipts, photos, coffee cups, pizza boxes, stickers, padded envelopes, paper towels and napkins cannot be recycled.
Each person who brings in qualified materials will have a chance to enter the zero-waste raffle. Prizes will include reusable coffee cup filters, beeswax wrap, reusable grocery bags, a KeepCup, a FinalStraw and more.
More information on the paper recycle drive can be found on the University Involvement Network website.
For more information, contact Slottke at alyssa.slottke@utoledo.edu or 419.530.5479.