UToledo Hosting First Ohio Cannabis Symposium on April 22
---
The University of Toledo is hosting its first "Ohio Cannabis Symposium for Attorneys, Medical Professionals and Entrepreneurs."
"The business, employment and tax opportunities from cannabis are significant, as the market's revenue is $150 billion annually," said Brandon Cohen, senior lecturer in the John B. and Lillian E. Neff College of Business and Innovation. "This revenue and corresponding tax dollars provide significant wealth creation and resources for employment and social programs in the states where it is legal."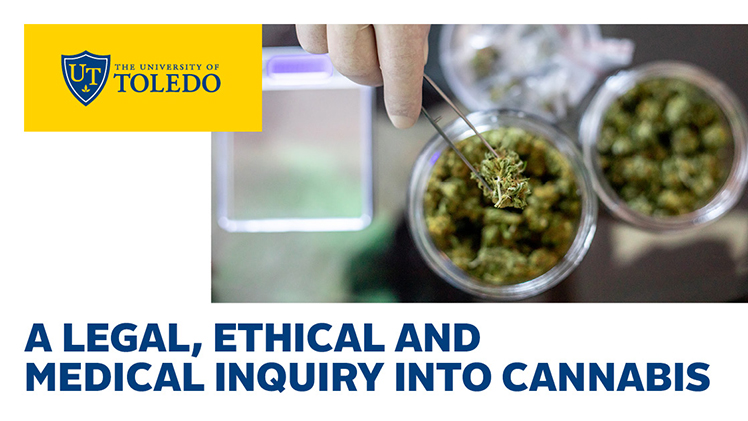 The symposium, which will take a deep dive into the legal, ethical, scientific and business aspects of cannabis, is only open to students in the Neff College of Business and Innovation and the College of Law, and is scheduled for Friday, April 22, from 7:30 a.m. to 4:15 p.m. in the Thompson Student Union Auditorium.
"The symposium provides a strong academic foundation for attendees to understand the history, legal, ethical, entrepreneurial and medical arguments for and against cannabis legalization," Cohen said.
Pete Kadens, co-founder and former CEO of Green Thumb Industries and a Toledo native, will serve as keynote speaker for the event. Green Thumb Industries is currently the second-largest cannabis company in the world with a market capitalization of more than $6 billion.
Six CLE and CME credits will be awarded to attorneys and medical professionals in attendance.
A registration fee of $275 is required for professionals, which covers the cost of continuing education credits, lunch and parking. A registration fee of $25 is required for students, which covers the cost of lunch and refreshments.
Neff College of Business and Innovation students can register by emailing Christopher Clark at christopher.clark8@utoledo.edu.
College of Law students can register online via the Toledo Law Career Network. The Office of Professional Development in the College is covering the student registration fee for the first 10 students.
Visit the event's website for more information and to view the agenda.