Ryan White Program to show film April 20, bring awareness to growing HIV issue
---
HIV is a serious, growing public health issue, especially among young minority populations, both male and female.
To help bring awareness to this issue, The University of Toledo Ryan White Program, which offers comprehensive medical care for people living with HIV, will show its short film, "The Downside," Wednesday, April 20, at 7 p.m. in the Driscoll Alumni Center Auditorium.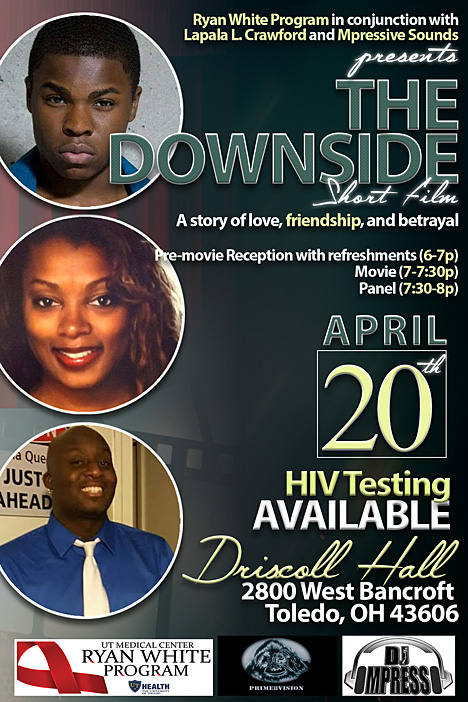 "The Downside" explores how societal stigma around sexuality leads to the spread of HIV despite advanced research, prevention and treatment methods.
The short film will be followed by a panel discussion featuring HIV experts.
"The goal is to get people to ask questions. The thing I'd like to see change with minority populations is with the stigma and fear. HIV is so stigmatized in these populations," said Kennyetta White, minority outreach coordinator of the Ryan White Program.
Refreshments will be provided at the free, public event. Around 150 people are expected to attend.
Each year, the Ryan White Program hosts several events to bring awareness to HIV; these include a fashion show in December and masquerade ball in November.
According to White, these events have led many more people to be tested for HIV and educated on the disease. She said her hope is that this awareness continues to grow and the program can reach more people.
"The program is special to me because I can educate people about HIV. I love what I do. The goal is to save lives," White said.
For more information about this event or the Ryan White Program, contact White at kennyetta.white@utoledo.edu.