Be prepared for tornado season
April 27, 2016 |
UToday
By Ashley Gearheart
---
Peak tornado season, which runs from April through July in Ohio, is upon us — are you prepared for the worst?
In order to keep students, faculty and staff safe in the event of a tornado, The University of Toledo has specific tornado and severe weather safety protocols in place. The UT Police Department encourages faculty, staff and students to be familiar with what to do if severe weather strikes.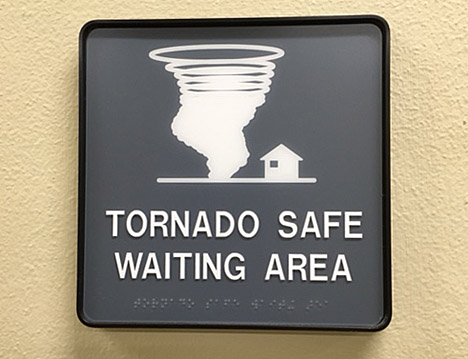 "Tornadoes have caused death and significant property damage in northwest Ohio," said UT Police Chief Jeff Newton. "Tornado safety is something we have to take seriously."
When weather conditions are favorable for a tornado, the National Weather Service issues a tornado watch for affected counties. In tornado watch situations, the best course of action is to be alert, listen for the emergency sirens, and continue with normal daily activities.
If a tornado or funnel cloud has been sighted, the National Weather Service issues a tornado warning. In this case, the county-wide emergency sirens will be activated, and the University's outdoor public address system and mass notification system in buildings will sound.
All classes will be immediately suspended when there is a tornado warning, and people in affected areas should seek safety immediately. Classes will not resume until the warning has expired.
The safest place to be in the event of a tornado is one of the many tornado safe waiting areas on campus or in a ground- or basement-level interior hallway with no windows to the outside.
Tornado safe waiting areas are located in buildings on Main, Scott Park and Health Science campuses and are marked with signs showing a twister. A list of tornado safe waiting areas can be found here.
To sign up for the UT Alert system, which sends text notifications during campus emergencies, click here.
For more information about the University's policies regarding severe weather emergencies, click here.