UT community asked to complete campus culture climate survey
April 27, 2016 |
UToday
By Staff
---
Take a few minutes to complete the University's biennial climate survey, and you'll be entered in a drawing to win $1,300 worth of prizes and be treated to ice cream and pizza.
Students, faculty and staff received an invitation to take the survey in their UT email account April 20. This email contains the link to the survey, which will take about 20 minutes to complete.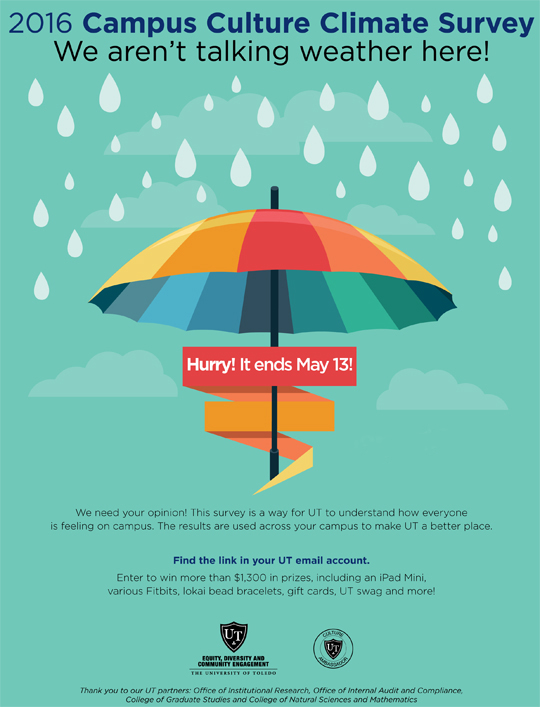 The 2016 survey is sponsored by the UT Culture Ambassadors and the Division of Equity, Diversity, and Community Engagement, and has a number of partners: Office of Institutional Research, Office of Internal Audit and Compliance, College of Graduate Studies, and College of Natural Sciences and Mathematics.
"The survey is different than the diversity assessment and measures the overall perceptions of campus climate, acceptance, diversity-related services, courses, programs and/or organizations, attitudes and feelings toward others, discrimination and harassment, and awareness," said Dr. Shanda Gore, chief diversity officer and associate vice president for equity, diversity and community engagement. "Responses will provide important information about your overall campus experiences, will assist in grant research, and be used to improve the culture of the UT community.
"More than 30 initiatives have been either created or promoted since 2010, and it has established the groundwork for many of the efforts we have completed at UT today."
Those who prefer to complete a hard copy of the survey can pick up one with pre-addressed envelopes at the Catharine S. Eberly Center for Women in Tucker Hall Room 0168 or the College of Graduate Studies in University Hall Room 3240 on Main Campus; in the Minority Business Development Center front entrance or the Office of Internal Audit and Compliance in Learning Resource Center Room 3850 on Scott Park Campus; and the UT Medical Center lobby on Health Science Campus, where managers also will be able to provide copies.
To thank participants for their time, those who complete the survey and provide an email address will be entered into a drawing to win some prizes, including an iPad mini, Fit Bits, lokai bead bracelets, UT apparel, gift cards and more.
"If you provide your email address for this drawing, your results will still remain confidential," Gore stressed.
The survey will close Friday, May 13.
Those with questions about the survey should contact Equity, Diversity and Community Engagement at 419.530.5538 or the Office of Institutional Research at 419.530.1241.