Diver Earns All-America Distinction on Platform
---
Sophomore diver Joelle Gallais has been named an All-American by the College Swimming Coaches' Association of America in platform diving.
Gallais becomes the fifth All-American for the Toledo women's swimming and diving program.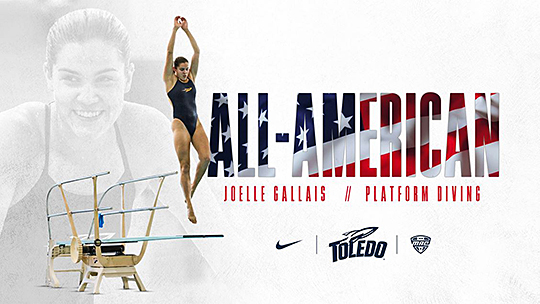 "It was unfortunate not being able to finish our season, but I am very proud of Joelle and what she has accomplished," Diving Coach Gabby Agostino said.
Gallais qualified for the NCAA Zone Diving Meet this spring on both one-meter and platform. She posted an NCAA Zones-qualifying score of 278.40 on the one-meter board at Bowling Green Feb. 8. Her score of 230.95 on the platform at Miami's Diving Invitational in December qualified her for NCAA Zones in that event.
The Lumsden, Saskatchewan, native posted six individual wins this past season, all coming on the one-meter board. She also qualified for NCAA Diving Zones as a freshman in 2019.
The 2020 NCAA Zone C Diving Meet was scheduled to begin March 12 in Lexington, Ky., the same day the Mid-American Conference canceled the remainder of its spring sports due to the COVID-19 pandemic.