Toledo Excel to celebrate 25 years of academic excellence
---
This year Toledo Excel, a scholarship incentive program at The University of Toledo, will observe its 25th anniversary and host a celebration Wednesday, May 8, from 6 to 8 p.m. in the Scott Park Concourse of the Scott Park Campus.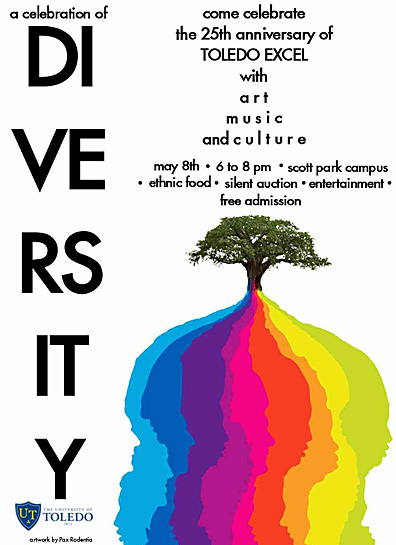 This free, public event will showcase Toledo Excel and its students.
Toledo Excel recruits high-achieving, under-represented eighth-grade students in the Toledo area. Selected students who fulfill academic and participation requirements receive a tuition-based scholarship to The University of Toledo upon high school graduation.
The program is designed to prepare students, beginning in the eighth grade, for success in college by providing them with academic enrichment services and activities throughout their high school years.
Toledo Excel also is dedicated to making students into conscientious and active members of the local community by offering a variety of enrichment services and activities that take place at UT in order to familiarize them with the University and collegiate expectations. These services and activities include summer institutes, Saturday school, tutoring, academic advising, career planning, mandatory community service, the Annual Conference for Aspiring Minority Youth, and ethnographic field study travel opportunities.
During its 25 years, more than 1,300 students have been inducted into Toledo Excel and their academic successes speak for themselves: 99 percent high school graduation rate; 96 percent college enrollment rate; 86 percent college graduates or students matriculating toward graduation.
Upon high school graduation and successful completion of the program, students then are guided through the college application and admission process, and receive academic advising throughout their time at The University of Toledo.
"Working with students from the eighth grade until college graduation and beyond greatly increases their chances for success, both academically and professionally, as well as instilling a sense of the importance of civic involvement and giving back to the community," said Mérida Allen, associate director of Toledo Excel.
For more information about Toledo Excel or the anniversary celebration, call 419.530.3824.