Recycling Program looking to increase awareness, statistics
---
While UT's Recycling Program continues to grow, administrators feel more can be accomplished with some help.
To increase the volume of recyclables, Tom Trimble, associate director of the Student Union, and Diana Ganues, director of building services, recycling and internal moves, are working together to find a recycling container that will work best for the University.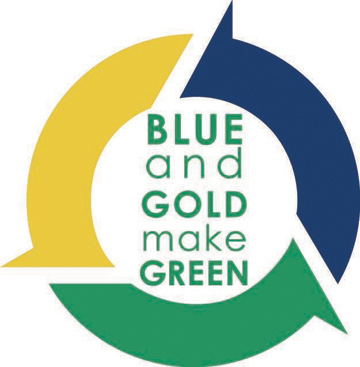 They are experimenting with four different containers that are placed in various locations in the Student Union on Main Campus.
They are ErgoCans that are made from 50 percent recycled polypropylene plastic. These cans are made locally by SNSfilms, which is located on Dorr Street across from the University. SNSfilms is experimenting with formulas and hopes in the future to make the containers out of 100 percent recycled material.
This company allows for personalized graphics on the containers; this would be a benefit to the Recycling Department as well as other departments across the campuses.
"The University has a new catchy logo, and we want people to associate it with the recycling program that UT offers," Ganues said, referring to the blue and gold make green graphic.
"The University has been recycling on campus for many years, but the Recycling Department wants to increase the volume of recyclables," Ganues said. "We know that there is recyclable material on campus that still goes into the landfill. We set a goal this year to increase recyclables by 5 percent and expect to collect about 30,000 tons a year with this number steadily increasing as people become more aware of the recycling program."
Another way the University is trying to increase recycling is teaming up with Goodwill of Northwest Ohio to recycle items that students leave behind after moving out in the spring. In previous years, clothing, house wares, furniture and small appliances have been collected, recycled and reused.
During the 2008 football season, recycling paired with ZooTeens, an organization that offers volunteer opportunities to students between the ages of 13 and 17 who have a strong interest in education, animal science and conservation. The ZooTeen volunteers passed out T-shirts with the football schedule and recycling logo on it to help encourage tailgaters and spectators to recycle. "We noticed a slight increase in recyclables from previous years," Ganues noted.
The University recycles in every building on all campuses. There are containers set out for collecting aluminum, glass and plastic, as well as paper, magazines and catalogs.
In addition, the University recycles other items, including cardboard, batteries, computers, tires, steel, wood, fluorescent light bulbs, ink jet cartridges and vehicle fluids.
For more information or to get involved in the recycling efforts at UT, contact Ganues at 419.530.1444.