Students: Take time to unwind at De-Stress Fest May 6
---
Stress can interfere with normal living, damage your physical health, and cause difficulties with concentration or mood.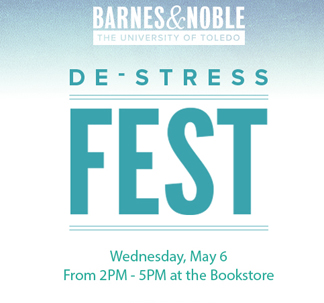 Join Rocket Wellness and the UT community for De-Stress Fest Wednesday, May 6, from 2 to 5 p.m. at the Barnes & Noble University Bookstore at the Gateway.
Students will have the opportunity to play with puppies, receive massages from Rocket Wellness therapists, play games, take photos with Rocksy, create a gift for Mother's Day, and have free pizza.
Colleen Strayer, general manager of the Barnes & Noble University Bookstore, said the event is a way for students to take their minds off studying and finals to enjoy some positive activities.
"De-Stress Fest was designed to provide a break to students during a very stressful time of the semester," Strayer said. "We had a great response and turnout for the event last semester and are looking forward to this one."
For more information, contact Strayer at sm573@bncollege.com.