Pharmacy professor helps shape medication therapy management in Ohio
---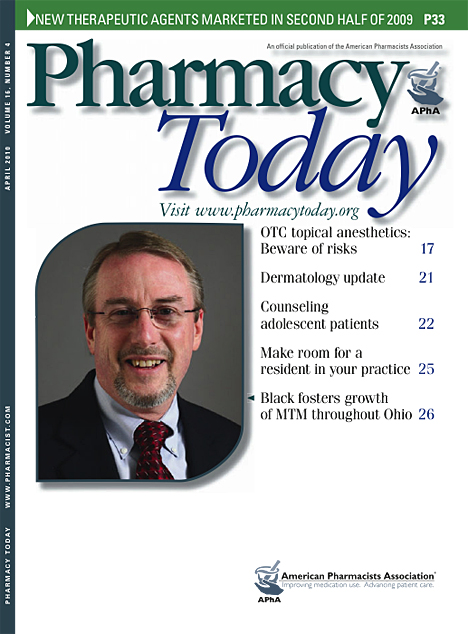 Dr. Curtis Black is featured on the cover on the April issue of Pharmacy Today, the national magazine of the American Pharmacists Association, for his work in helping shape and implement medication therapy management in Ohio.
Black, The University of Toledo Merck Professor of Clinical Pharmacy, spent the 2008-09 academic year as faculty in residence with the Ohio Pharmacists Association while on sabbatical. The magazine cover story details his efforts during that time when he surveyed which Ohio pharmacists were practicing medication therapy management, or MTM, and the barriers for those who were not.
"MTM is intended to empower individuals with knowledge to use medications appropriately," Black said. "We found that most pharmacists wanted to participate, but the logistics of how to do it is where we need to work."
MTM organizes a patient's prescribed medications, over-the-counter drugs, and herbal and dietary supplements into a comprehensive record with which the pharmacist can help the patient manage the medications and his or her health.
The program includes sessions between pharmacist and patient to discuss what a medicine is used for, how to take it so that it works best, possible side effects, what drugs are being taken that might no longer be needed, and more.
It would be particularly helpful for patients with chronic illnesses such as diabetes where medications are taken to treat the illness and others are prescribed to prevent other problems associated with the illness, such as kidney and heart problems, Black said.
If that person also has allergies or suffers from depression, the medications start to add up. The organization and consultation involved in this approach would help manage that, Black said.
MTM is a team effort between the physician, pharmacist and patient to individualize the care to each person that would ultimately improve the health of the patient and reduce the costs associated with care, he said.
Black is the chair of the Ohio Pharmacists Association's Disease State Management and Medication Therapy Management Task Force with about 60 pharmacists who are involved in creating a strategic plan to implement the practice in more pharmacies in the state.
Some of the areas to address are laws regarding pharmacists and physicians working together to make changes to medications and changing the workflows of a pharmacy to free up a pharmacist to have time for these individual sessions with patients, Black said.
"I've always felt there is more a pharmacist can do to help individuals use their medications and have a healthier life," Black said. "I'm honored to be able to help with implementing MTM in the state, and it's neat for me to see the work that I am doing being recognized as valuable to the profession."