UT Matters focuses on graduation
---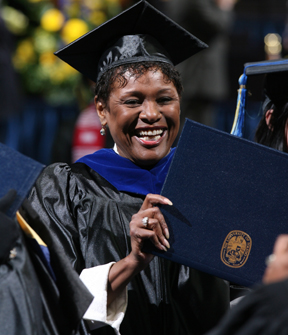 UT Matters is a partnership with The Blade and Buckeye CableSystem to bring the community health science education and the latest news about how University of Toledo faculty, staff and students are changing Toledo and how the community can be a part of it.
This month's UT Matters topic is University graduates thriving to make the best out of the changing economy.
Thousands of students at The University of Toledo and at other schools nationally will graduate and start searching for jobs this month. The chances may seem slight, but the changing economy is actually leading to new and exciting opportunities.
According to Dr. Rosemary R. Haggett, UT provost and executive vice president for academic affairs, there's no better time to have a bachelor's degree — or start on one.
"[At UT,] we're able to give students skills that go beyond their area of study. I want to join with everyone at the University when I say how proud we are of our graduates and their accomplishments," Haggett said. "One of the best investments you can make — whether the stock market is up or down — is an investment in yourself and your education."
Learn more about investing in yourself through a UT education. Call 877.451.2299.