Striking up fun, trust at bowling event May 13
---
What do you get when kids, police officers, firefighters and military personnel bowl together?
"A lot of fun — and a new perspective," George W. Hayes Jr., UT electrician journeyman 2, said. "The future of our kids starts with how we positively impact them today."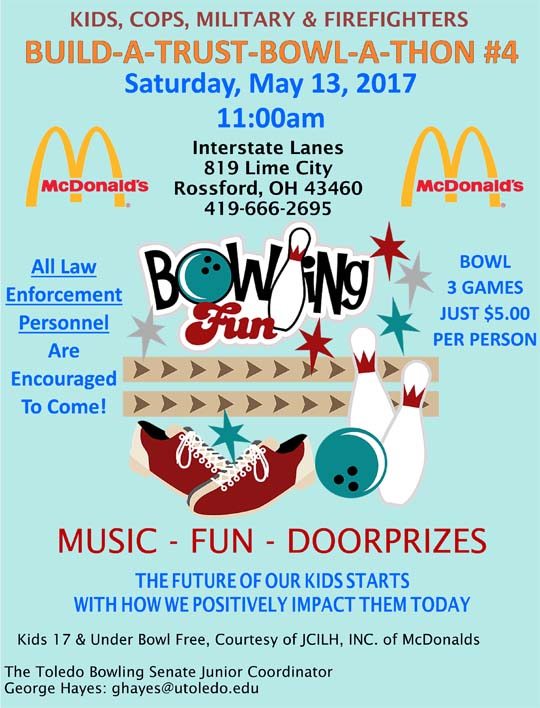 The fourth Build-A-Trust-Bowl-A-Thon will be held Saturday, May 13, at 11 a.m. at Interstate Lanes, 819 Lime City Road in Rossford.
"We need to build that trust level up and get to know and understand each other better," Hayes said. "This event is one way to do that because this is not just a Toledo issue, it's a nationwide issue.
"We are all in this together," he said. "The intent of this event is to get back what we once had — trust. Like the men and women in uniform have a responsibility to protect and serve us, we have a responsibility to help them help us — telling when we see something, staying out of trouble, thanking them for all that they do day in and day out."
The Toledo Bowling Senate junior coordinator started this event in 2015.
"It's a nice, interactive way for us all to come together and have a good time," Hayes said. "We hope to fill all 40 lanes."
Police, firefighters, military, kids, students, and community members are encouraged to hit the lanes.
Youth 17 and younger bowl for free, courtesy of local businessman Jon Harris and JCILH Inc./McDonald's. For $5 per person, other participants can bowl three games and rent shoes.
"There'll be music and door prizes — and a lot of pins going down as morale and trust go up," Hayes said.
For more information, contact Hayes at george.hayes@utoledo.edu.