Bowling event to bring together police, kids
---
Tensions between police and civilians have been on the rise, but a member of The University of Toledo staff is on a mission to turn that trend around.
George W. Hayes Jr., UT electrician journeyman 2 and Toledo Bowling Senate junior coordinator, first organized the Build-A-Trust-Bowl-A-Thon last year with the goal of increasing the amount of trust between community members, specifically kids, and men and women in uniforms.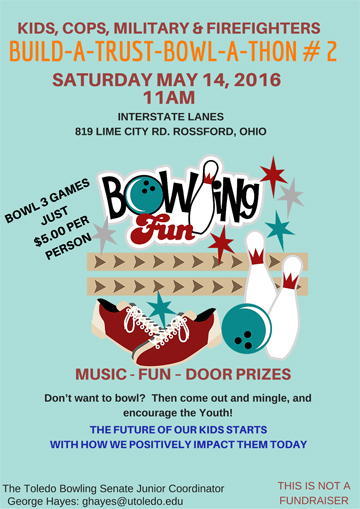 Hayes said in his 31 years of working with kids, he has witnessed firsthand the issues affecting today's youth. His hope is to make Toledo a better place, even if it's one small step at a time.
"I have to try to do something," he said. "This event is critical to our area because our young people are priceless. We have to give them a path to a better life."
This year's bowl-a-thon will be held Saturday, May 14, at 11 a.m. at Interstate Lanes, 819 Lime City Road, Rossford. Police, firefighters, military, kids, students and other community members are encouraged to attend.
"I hope when folks leave this event, there is a trust factor on both sides of the aisle that wasn't there before they walked in," Hayes said.
For $5 per person, participants can rent shoes and bowl three games.
The kitchen will be open and making "some of the best pizzas around," according to Hayes.
For more information, contact Hayes at george.hayes@utoledo.edu.