Visiting Polish jazz band to perform at UT
---
Toledoans will swing and sway to the tune of jazz as a Polish band is set to perform at the University this week.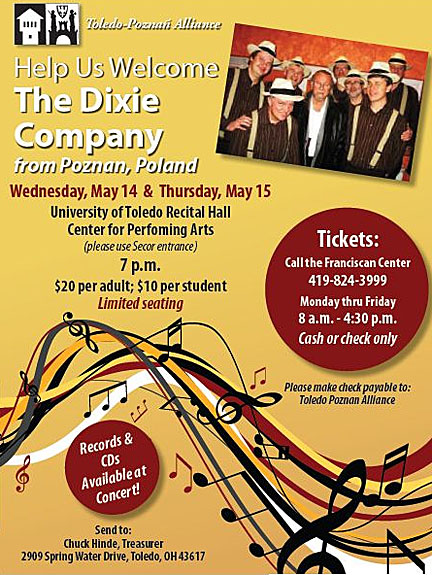 The Dixie Jazz Company, a seven-member jazz group visiting from Poland, will play their music in UT's Center for Performing Arts Recital Hall Wednesday, May 14, and Thursday, May 15, at 7 p.m. both nights.
The band will play two 90-minute shows before continuing on to Sacramento, Calif., for a weeklong jazz festival.
The band is from one of Toledo's sister cities, Poznan, Poland. The Toledo-Poznan Alliance was formed in 1991 by Toledo Sister Cities International, a Toledo group that works to foster international activity for world peace.
Kathy Grabel, retired UT employee who is one of the founders of the Toledo-Poznan Alliance and board member for the organization, has helped organize many events through the group and tries to promote cultural understanding between the two cities.
"It's important that we welcome the jazz band to Toledo as part of the cultural exchange, as stated in our mission statement," she said.
The relationship allows both cities to share in cultural events periodically throughout the year. Additionally, at Christmas, a monetary gift is sent to an orphanage in Poznan to provide the children with gifts.
While visiting Toledo, the Dixie Jazz Company will meet with community leaders, including Mayor D. Michael Collins and his wife, Sandra Drabik, who have participated in events previously with the Toledo-Poznan Alliance. In 2009, the couple toured Poland. Grabel explained that during their tour, the visitors were welcomed by some of Poznan's city officials.
"The deputy mayor, Mr. Andrzej Sobon, met with us; he had a very nice reception for our group touring Poland," she said. "Mr. Sobon spoke excellent English and part of his entourage was other officials of the city of Poznan."
Tickets to the show are $20 for adults and $10 for students and can be purchased from the Lourdes University Franciscan Center Ticket Office or by calling 419.824.3999 Monday through Friday from 8 a.m. to 4:30 p.m. Cash or checks will be accepted; checks are to be made payable to Toledo-Poznan Alliance.
Discs will be for sale at the concert.
Proceeds will go toward covering the band's time in Toledo. Grabel added that donations from the Polish community are requested.