Rockets land impressive Academic Progress Rate scores; football ranks No. 1 in MAC
---
The NCAA today released its annual Academic Progress Rate (APR) figures for the four-year period from 2009-10 to 2012-13, and The University of Toledo received impressive scores across the board.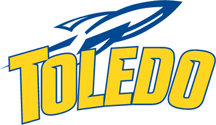 All 16 sports were well above the NCAA's "cut point" of 930, with women's swimming leading the way with an impressive score of 998.
The football program had an APR score of 974, which ranks No. 1 in the Mid-American Conference.
Men's basketball had the biggest improvement, moving from 902 a year ago to 944 this year.
"We are very proud of all of our sports for posting such impressive APR numbers," said UT Vice President and Athletic Director Mike O'Brien. "It's an important marker that shows that our student-athletes are doing well in the classroom and are on track to graduate.
"I'd like to point out that almost all of our teams posted a higher APR score than a year ago," he added. "Special recognition should go to our women's swimming program, which has a nearly perfect APR score over the past four years. Also, congratulations should go out to our football program for finishing with the highest APR in the Mid-American Conference."
APR is a gauge of every team's academic performance at a given point in time. Points are awarded on a semester-by-semester basis for eligibility, retention and graduation of scholarship student-athletes. "1000" is considered a perfect score. Sports that fail to reach the "cut point" (930) can be penalized with the loss of scholarships, practice restrictions and post-season bans. The APR data released today is a cumulative figure taken from the 2009-2010, 2010-11, 2011-12 and 2012-13 school years.
2012-13 University of Toledo Academic Progress Rate
Baseball 965
Men's Basketball 944
Men's Cross Country 973
Football 974
Men's Golf 977
Men's Tennis 975
Women's Basketball 988
Women's Cross Country 992
Women's Golf 981
Women's Soccer 984
Softball 976
Women's Swimming 998
Women's Tennis 969
Women's Track 979
Women's Volleyball 987
NCAA "Cut Point" 930
*Four-year data from academic years 2009-10 through 2012-13