New online ID/Rocket Card ordering system allows personalized photos
May 19, 2011 |
UToday
By Meghan Cunningham
---
Ordering a new Rocket Card is now just as simple as updating a profile on Facebook or other social network.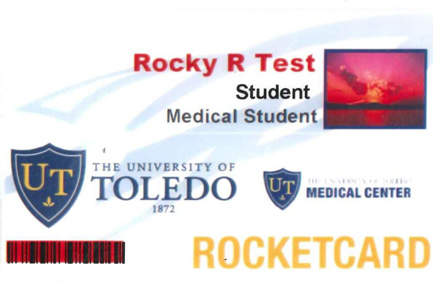 The University of Toledo ID system has been automated to allow all students and employees to receive a new Rocket Card by logging into the myUT portal with their UTAD and password, which automatically inputs name, Rocket number and other information. The user then picks which campus he or she would like to pick up the ID/Rocket Card, uploads a photo, and submits the order.
Student accounts automatically will be charged for the ID when the request is submitted. Employees needing a replacement card will have to pay the board-approved fee with a check when they pick up their ID. There is no fee for an employee's first ID card or when a title or department is changed.
"This is another way the University is making its services more customer focused," said Joy Gramling, director of auxiliary services. "We know people do not like waiting in line to have their photo taken for their ID. This offers a convenient way for students and staff to easily upload a recent photograph that they like anytime from home."
The photos uploaded for the ID cards need to be professional and free of any items on the head, such as hats, and nothing covering the face, such as sunglasses. It also needs to be a recent photo that shows the whole face, not just a profile.
The upgrade to the ID system also includes new Rocket Cards. All cards now carry both the UT and UT Medical Center logos. The unique 16-digit number that was tied to the student accounts, which used to be printed under the photo, has been removed as a safety measure to prevent issues of theft or misuse.
Every ID card also includes a red barcode that is needed for access to some University systems. Putting that barcode on every ID card will eliminate the need to issue new cards when, for example, medical students enter clinical rotations and need access to the electronic medical records system at UT Medical Center, Gramling said.
If your student or employee Rocket Card is accurate now, there is no need to get a new card.
After the Rocket Card is ordered online, students or employees will receive an e-mail within three business days letting them know their new ID is ready to be picked up. You will need a photo ID, such as a driver's license or passport, to pick up the Rocket Card.
New ID cards also have been created for the outside customers to the Student Recreation Center, UT Physicians and merchants who do regular business with the University.