Three Rocket graduates turning pro
---
Seniors Natcha Daengpiem, Pimchanok Kawil and Pinyada Kuvanun each enjoyed memorable careers with The University of Toledo women's golf program. Now the trio will test their skills on the professional golf circuit.
Daengpiem, Kawil and Kuvanun each played a key role in the Rockets posting a 299.01 stroke average in the recently completed 2018-19 season. That mark was just shy of the 2015-16 squad's school-record mark of 298.3. Toledo also registered a second-place finish in the Mid-American Conference Championships for the fifth time in the last seven years.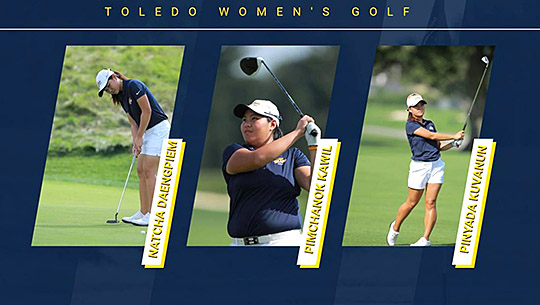 Kuvanun, who finished her collegiate career with a 73.7 stroke average, is planning to participate in a few Monday LPGA qualifiers, as well as additional professional tournaments this summer in the United States before heading to the LPGA Q School in August.
Kawil finished third in school history with her 75.6 average and is planning to join Kuvanun at the LPGA Q School after competing in Thailand LPGA events this summer.
Daengpiem ranks seventh in school history with a 77.1 career average and is expecting to compete in Asian tour events in Taiwan and other Asian countries this summer.
Click to access the login or register cheese