Three Rockets Named MAC Distinguished Scholar Athletes
---
Three University of Toledo student-athletes were named Distinguished Scholar Athletes from the 2019-20 winter season by the Mid-American Conference. The awards were received following strong contributions in the field of competition and exemplary work in the classroom.
Women's indoor track and field athletes Rayna Horner and Petronela Simuic were named Distinguished Scholar Athletes, as was Izzy Jones from the women's swimming and diving team.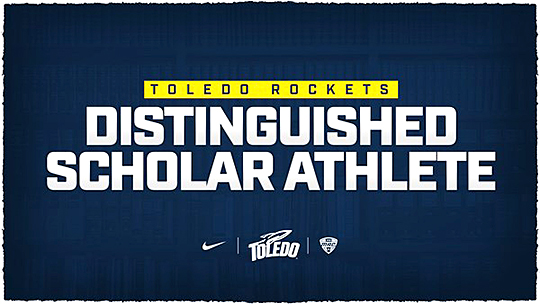 Horner is a sophomore majoring in pre-social work; she has a 3.774 grade-point average. Simuic is a senior majoring in health promotion and education; she has a 3.695 GPA. And Jones, a redshirt junior, is studying kinesiology and has a 3.734 GPA.
The award is given to student-athletes who have excelled in athletics and academics. Following each season, any student-athlete with a 3.20 GPA and participation in at least 50 percent of the contests is automatically named to the Academic All-MAC Team for each sport. First-year students and junior college transfers in their first year of residence are not eligible for the award.
New for this 2019-20 academic season, the selection for the Distinguished Scholar Athlete included all student-athletes that were recognized as All-MAC selections and Academic All-MAC selections from their respective sport, along with maintaining a 3.50 GPA and above. Previously, a voting process among the MAC Faculty Athletic Representatives determined the selection of the Distinguished Scholar Athletes. MAC membership voted for the change in recognizing the Distinguished Scholar Athletes during the conference spring meetings in June 2019.
Click to access the login or register cheese