Toledo football announces '150 Rocket Challenge' ticket promotion
---
The University of Toledo announced a new football season ticket initiative for the 2019 season, the "150 Rocket Challenge," to help celebrate the 150th anniversary of college football.
The Rockets have set a goal to sell 150 new season ticket orders in the month of June. As part of the promotion, a limited number of Sideline A season tickets Section 25 will be available for only $150 until Sunday, June 30; that's a savings of $45 per season ticket. Fans also can opt to purchase other season ticket packages with prices starting as low as $70.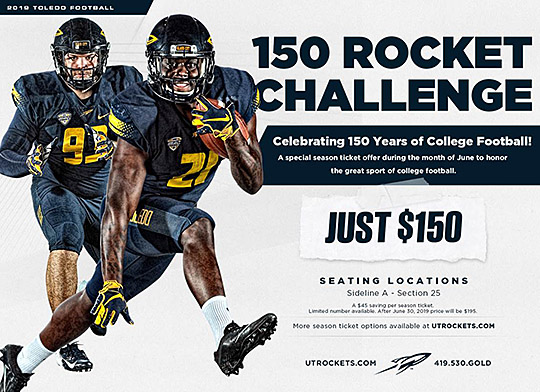 New season ticket purchases in the month of June will be entered to win an autographed football from Head Coach Jason Candle. A new winner will be selected after every 25 season ticket packages sold for a total of six winners. Winners will be selected on Facebook live and Instagram stories.
All season tickets purchased by 5 p.m. Friday, June 7, will receive $10 in Gino dollars, redeemable at any Original Gino's Pizza location in the Toledo area.
The University of Toledo is joining the celebration of the 150th anniversary of college football with special events throughout the 2019 season. The Rockets will host a 150th anniversary commemoration game in the Glass Bowl vs. Kent State Tuesday, Nov. 5. The first college football game was played Nov. 4, 1869, between Rutgers and Princeton. Football began at The University of Toledo in 1917.
For more information, go to the Toledo Rockets' website, call 419.530.GOLD (4653), or stop by the UT Athletic Ticket Office during business hours.