Bra-vo: UT team wins first place in Battle of the Brassiere
---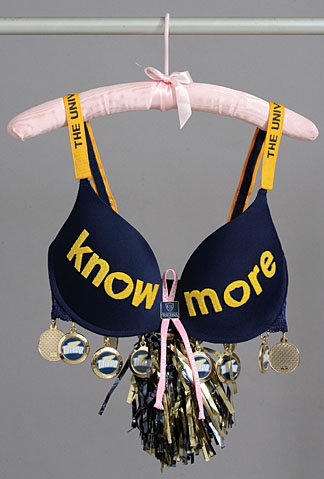 It's UT pride in a whole new medium: bras.
A team from the UT Office of Marketing created the "Know More" bra, which won first place in the American Cancer Society's Battle of the Brassiere. A total of 31 bras were submitted this year. The battle was held as part of the Making Strides Against Breast Cancer walk May 8 at the Town Center at Levis Commons.
Team members included Esther Fabian, associate vice president for branding and creative services; Michelle Hoch-Henningsen, creative director; Sue Benedict, graphic designer; Joni Bishop, graphic designer; Debbra Cooper, traffic manager; Stephanie Delo, graphic designer; and Amanda Russell, graphic designer.
The group's design was inspired by UT's advertising campaign theme, "More," and the midnight gold and blue colors.
"UT has been a flagship sponsor of the Making Strides event since it started four years ago," Fabian said. "We've got a great creative team, so it was only natural to highlight that talent and UT's support through this nontraditional aspect of the event."
The bra's design was conceived by the team months ago over lunch, with construction taking about 10 hours. The design incorporates UT lanyards, keychain bobs, two pins, and pom-pom. Most of the items were purchased in the UT Bookstore.
"We work with different media every day, but this was a first," Hoch-Henningsen said. "It was a creative team effort, and it was fun to support a good cause — to raise awareness about breast cancer."
Since the win, the UT Medical Center's Radiation/Oncology Department has asked if it can display the award-winning work.