Local bands: Compete for chance to perform at UT Music Fest 2012
---
Local bands interested in playing in front of a live crowd at one of the area's largest outdoor music events will have that opportunity at Music Fest 2012 at The University of Toledo.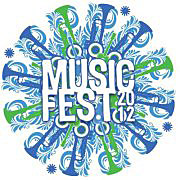 Think you have what it takes to become famous? This is your chance. Local bands waiting to be discovered can upload a live performance YouTube video to Music Fest's Facebook page for a chance to be selected as an opening act for the popular music event that will take place Friday, Sept. 14, on UT's Main Campus.
"After two successful years of Music Fest, we wanted to do something a bit different this year and get the community involved in selecting the performers," said Lawrence J. Burns, UT vice president for external affairs. "We have such amazing musical talent here in northwest Ohio, and this is a great way to give local bands the opportunity to share their music with a huge audience of music lovers."
Videos no longer than five minutes can be uploaded to the Music Fest Facebook page from Monday, June 18, through Wednesday, June 27. The YouTube video should include the band name and the words "UT Local Band Challenge" in the title.
The top 10 bands with strong musical talent, unique sound and energetic performances will be selected as finalists and have their videos posted on Facebook starting Sunday, July 1, for the public to vote on their favorites.
The winner will be announced Monday, July 16, and will receive $750 and the opportunity play in front of hundreds of excited fans at Music Fest 2012.
For more information, visit facebook.com/UTMusicFest.