New online resource provides 'TLC' to help students transition to college
---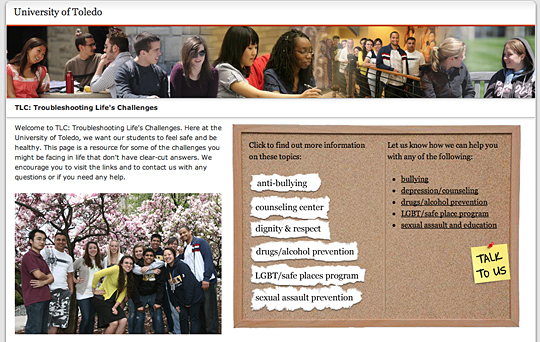 A new website has been created to serve as another resource to assist students as they transition into the college environment.
The new online resource, TLC: Troubleshooting Life's Challenges, is available at www.utoledo.edu/tlc. It includes information about anti-bullying, the Counseling Center, the Dignity and Respect Fits U to a T campaign, alcohol and drug prevention, LGBT Initiatives, and sexual assault education and prevention.
"We created the TLC website because students are going to need a little tender loving care, another TLC, to get through the next few years," Dean of Students Michele Martinez said. "This is one of the ways the University can be proactive to assist students who experience stress as they transition from being guided by a parent to making big decisions on their own."
She has included the website in her discussions about campus resources and the Student Code of Conduct with new students and their families during Rocket Launch.
Martinez said she also hopes faculty and staff can use the new website as a quick reference when they need to refer students to UT program and services.