Infections down 51 percent; UT Health celebrates 'extraordinary' patient care achievement
---
University of Toledo Health employees will celebrate this week an achievement UT Health leaders called extraordinary and exceptional in modern health care: Cutting by more than 50 percent an already low hospital-acquired infection rate and sustaining that reduction for more than half a year.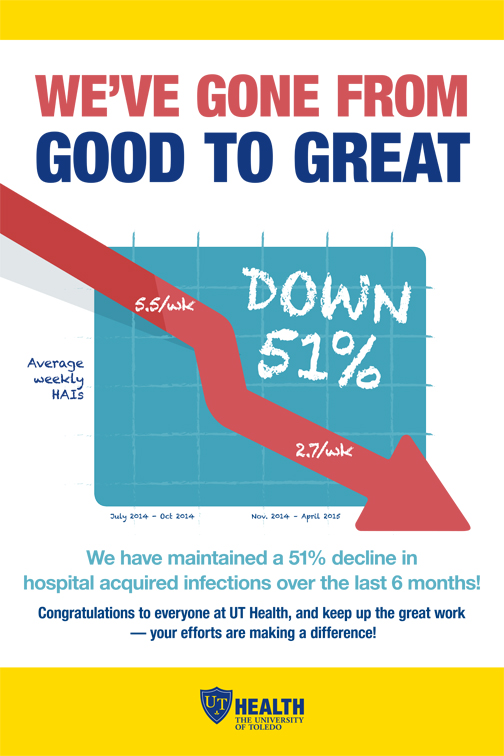 "Preventing hospital-acquired infections is something that UTMC has been pretty good at for awhile, but last fall we decided pretty good didn't cut it. We decided to be great," said Dave Morlock, CEO for UT Health.
"For the last six months, we've sustained a cumulative 51 percent drop across all categories of inpatient hospital-acquired infections," Morlock said, "and I truly believe it's an accomplishment by these caregivers and employees that few organizations across the country can top.
"From hospital leaders to physicians and nurses, to house keepers and maintenance staff, to everyone who has made this possible, thank you."
UTMC numbers show an average of about 2.5 inpatient hospital-acquired infections per week in the last six months and multiple weeks with zero hospital acquired infections.
"It's long been considered an unfortunate fact that hospital-acquired infections are just part of the reality of health care," said Marge McFadden, chief administrative officer for quality and patient safety.
"We've rejected that attitude. It is true that some procedures and some conditions can make patients more susceptible to infection, but our caregivers have demonstrated clearly in the last half year that the potential for infection can be minimized."
Both Morlock and McFadden said the goal is to eliminate hospital-acquired infections, not merely reduce them.
In honor of UT Health employees, the hospital is hosting a 51-hour celebration for all staff and physicians beginning Wednesday, June 24, at 7 a.m. through Friday, June 26, at 10 a.m. All UT employees who show their name badge will earn a 51 percent discount at the Four Seasons Bistro Café and 51 percent off two UT Gear items at the Satellites Gift Shop. The gift shop will have special hours June 24 and June 25 opening at 7 a.m.
Additionally, UT leaders will be distributing cookies in the Four Seasons Bistro Café:
• Wednesday, June 24, from 11 a.m. to 1 p.m.;
• Thursday, June 25, from 4 to 6 p.m.; and
• Friday, June 26, from 6:30 to 8:30 a.m.
"From an emphasis on hand washing to reviewing and revising our processes, hundreds and hundreds of people across all levels of our hospital own this success. And that is what makes this celebration so rewarding," said Dr. Carl Sirio, chief operating and clinical officer for UT Health.
"Until we reach zero, we'll always have more to do to drive infections down even further. One is too many," Sirio said.
Morlock said, "What we've done during the last 26 weeks is a hell of an accomplishment, and this week we are going to take a moment and celebrate the hard work we've done to keep patients well."