Satellites to hold gold buy-back event
June 25, 2009 |
UToday
By Vicki L. Kroll
---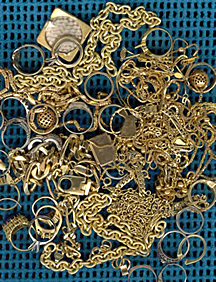 The Satellites Auxiliary is sponsoring a gold buy-back event Wednesday and Thursday, July 1 and 2, in the UT Medical Center Skyview Food Court Atrium on Health Science Campus.
Gold Coast will run the event, which will offer instant payment for old, broken or unwanted gold jewelry.
Bring your baubles by between 7 a.m. and 5 p.m. Wednesday and between 7 a.m. to 1 p.m. Thursday.
A portion of the proceeds will go toward the UT Medical Center's Health-Care Scholarship fund.
The Satellites Auxiliary is a group designed to promote education, research and service programs, provide support of patient programs in accordance with the needs and approval of administration, conduct fundraising events, and provide volunteer services.
For more information on the gold buy-back event, contact Lynn Brand, president of the Satellites, at lynn.brand@utoledo.edu.