Utilize campus resources to improve wellness
June 29, 2018 |
UToday
By Staff
---
Creating a culture of wellness and work-life balance is at the heart of the University's employee wellness program, Healthy U.
"As the second largest employer in the region, UT is proud to offer our faculty and staff a variety of wellness programming, along with health screenings and wellness incentives, as a way to stay healthy," said President Sharon L. Gaber. "I encourage our campus community to take advantage of these ongoing wellness offerings that provide resources for a healthier lifestyle."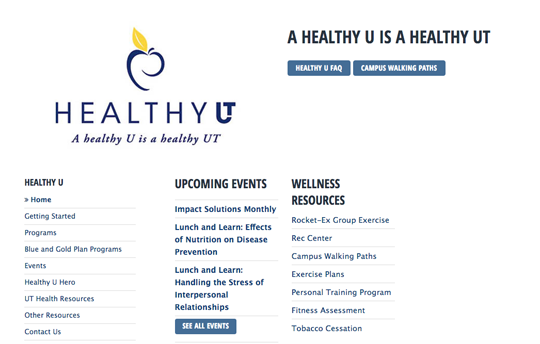 Over the last three years, Healthy U program enrollment has doubled to 2,100 employees.
Featured events this past academic year included Rocket Recharge, which featured stress-relieving activities such as yoga, art therapy and gardening; Mindfulness Training, which taught meditation techniques to help with relaxation and stress-reduction; and the Toledo Heart Walk, which garnered strong participation by faculty and staff across UT campuses.
Most recently, Healthy U collaborated with the Benefits section of Human Resources to implement a wellness incentive program for faculty and staff who elected the Blue medical plan. This incentive offers eligible employees the opportunity to earn an additional employer contribution toward their health savings account by completing a variety of wellness activities, including taking a health screening and online health risk assessment, receiving an annual flu shot, and participating in campus Lunch 'n Learns.
Additionally, Healthy U implemented the WellDimensions program, which is available to employees on both the Gold and Blue medical plans. This program offers work and home activities that focus on several dimensions of wellness, including meal preparation and planning workshops, physical activity tracking, and financial wellness resources.
"By using our various partners and resources, we're able to bring experts to campus and empower employees to improve all dimensions of their well-being," said Wendy Davis, associate vice president and chief human resources officer.
Upcoming Healthy U offerings this summer include the following Lunch 'n Learns: Handling Stress on Wednesday July 25, and Retirement Planning 101, on Tuesday and Thursday, Aug. 7 and 9.
For more information about Healthy U and a complete list of programming, including additional details about the summer Lunch 'n Learns, visit utoledo.edu/offices/rocketwellness/healthyu.