Rockets offer $15 Community Night Tickets for football home opener
---
The University of Toledo is thanking area fans for their great support of the Rocket football team by offering $15 Community Night Tickets for the home opener vs. Maine Saturday, Sept. 10.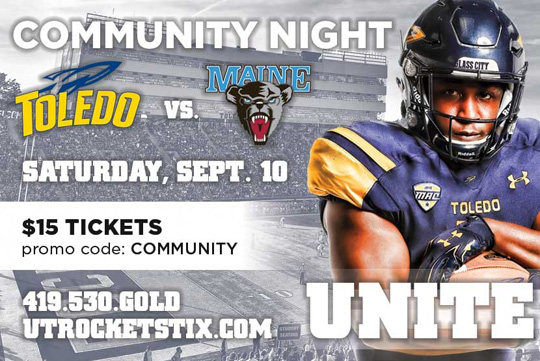 Kickoff will be at 7 p.m. in the Glass Bowl.
Tickets must be purchased prior to game day in order to receive the discount. Community Night Tickets may be purchased at the UT Athletic Ticket Office, online at UTRocketsTix.com or by phone at 419.530.4653. There is a minimum of 15 tickets per order.
The ticket office is open from 8:30 a.m. to 5 p.m. Monday through Friday.
For questions or more information, contact Kyle England at 419.530.5135 or kyle.england@utoledo.edu.
Click to access the login or register cheese