Free screening of 'The Weight of the Nation' slated
---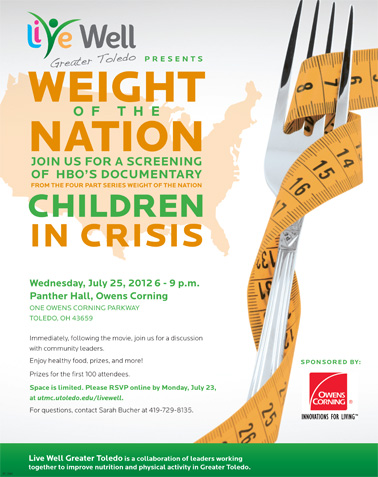 The University of Toledo is part of Live Well Greater Toledo, a collaboration of leaders coming together to improve access to physical activity and nutrition.
Live Well Greater Toledo will present a film screening of "Children in Crisis" from the HBO documentary, "The Weight of the Nation," Wednesday, July 25, from 6 to 9 p.m. at Owens Corning, 1 Owens Corning Parkway off Summit Street.
"The film offers an in-depth look at obesity and will be followed by a discussion about how we can work together for solutions locally and nationally," said Vicki Riddick, UT senior wellness officer.
"This will be an excellent opportunity for you to join our efforts to improve nutrition and physical activity, and work toward improving the health of our community," Riddick said.
Community leaders will be on hand to address this health issue and help those in attendance learn more about maintaining a healthy lifestyle, and contribute to recommendations on how local businesses and other organizations can improve the community to empower individuals and families to make healthier choices.
"The Weight of the Nation" is a presentation of HBO and the Institute of Medicine, in association with the Centers for Disease Control and Prevention and the National Institutes of Health, and in partnership with the Michael & Susan Dell Foundation and Kaiser Permanente.
Space is limited; RSVPs are requested by Monday, July 23, to utmc.utoledo.edu/livewell.
For more information on the free, public presentation, call 419.729.8135.