Jefferson Award nominations due July 23
July 19, 2012 |
UToday
By Staff
---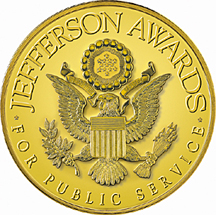 Do you know this month's Jefferson Award "Champion" honoree?
The July honoree could be a colleague who serves meals at a homeless shelter, gives "haircuts" at an animal shelter, or coaches at a community center.
If you know an unsung hero who dedicates his or her time to community service, submit a nomination on UT's Facebook page or directly to UT's Jefferson Awards page.
Nominations for the July honoree are due Monday, July 23.
This month's Jefferson Awards "Champion" could be someone you know — nominate today!
Click to access the login or register cheese