Rockets tabbed to capture MAC's West Division title, championship game
---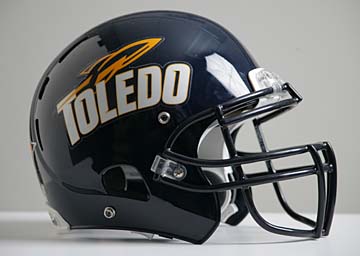 The University of Toledo football team was picked to finish first in the Mid-American Conference's West Division in voting performed by 26 members of the league's media contingent.
The annual preseason poll was released yesterday at the conference's 2011 football media day held at Ford Field.
The Rockets received 83 votes in the annual poll to edge defending West champion Northern Illinois (81) by two points. Western Michigan (76) was picked to finish third followed by Central Michigan (55), Ball State (27) and Eastern Michigan (24).
Toledo also received the most votes to win the annual Marathon MAC Football Championship Game between the winners of the West and East divisions. UT led the way with five votes, with Northern Illinois and Miami gaining three votes. Ohio and Western Michigan also received one vote.
UT Head Coach Tim Beckman said the vote of confidence for the Rockets is an indication of the progress of the program.
"We are getting to where we need to get to," said Beckman, now entering his third season with the Rockets. "We're not there yet because we haven't won the MAC Championship yet. But it speaks volumes about the direction of the program."
If Toledo were to win the West Division title, it would face the winner of the East Division. Selected to win the East Division title was defending MAC Champion Miami with 97 points, followed by Ohio with 96. Temple was chosen third in the East with 88 points followed in order by Kent State (57), Bowling Green (48), Buffalo (37) and Akron (25).
Toledo is coming off an 8-5 season in 2010 (7-1 MAC), including an appearance in the Little Caesars Pizza Bowl vs. FIU. The Rockets return 17 out of 22 starters, nine on offense and eight on defense. Among the returners are junior All-America wide receiver/kick returner Eric Page and four other players who earned All-MAC honors in 2010.
The Rockets report to training camp Tuesday, Aug. 2, with the first practice coming a day later. As has been his custom, Beckman will live with the team in the dorms for the first three weeks of camp.
"I can't wait to get into that bed in Ottawa East because I'll be right there with them," Beckman said. "I can't wait to get back with our players because you miss them. You miss being with them, and you want to get this thing rolling in the right direction."