Swimmer, Diver Named Scholar All-Americans
---
University of Toledo diver Joelle Gallais and swimmer Izzy Jones have been named to the College Swimming & Diving Coaches Association of America Scholar All-American Team.
The award recognizes student-athletes who achieved a grade point average of 3.50 or higher and were invited to compete at their respective national championship.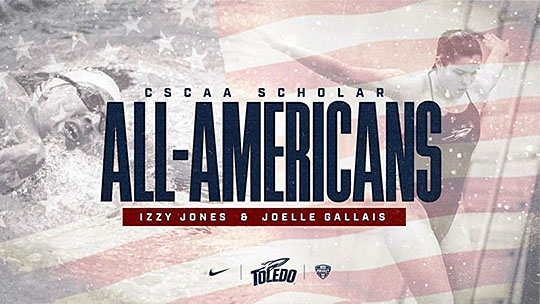 Gallais earns Scholar All-America honors for the second time, while this is the first such award for Jones. Both Gallais and Jones garnered Academic All-Mid-American Conference honors this season as well.
Gallais, a sophomore, posted a 3.75 GPA this past semester as a bioengineering major, and Jones, a junior, recorded a perfect 4.0 GPA and graduated in May with a bachelor's degree in kinesiology.
The Toledo swimming and diving team turned in a combined GPA of 3.742 this past spring semester, with nine members achieving a flawless 4.0 mark.
As a whole, Rocket student-athletes posted a combined GPA of 3.527, the highest combined semester GPA ever for UToledo athletics.