Introduction to Medicine
---
Warren Back, a first-year medical student in the College of Medicine and Life Sciences, adjusts his new white coat with help from Dr. Michael McCrea of the college's alumni affiliate.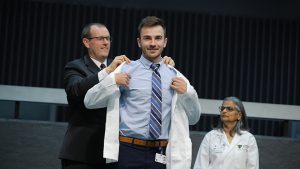 Back was one of 176 incoming medical students who participated in the annual white coat ceremony on Friday, July 30.
A rite-of-passage for first-year medical students, the event symbolizes their entry into medical training and emphasizes the principles of their chosen profession.
Click to access the login or register cheese