Plenty of promotions on tap for volleyball season
---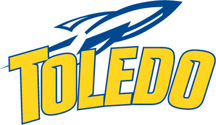 An iPad. Stainless steel mugs. Frosted pub glasses. T-shirts. Those are just some of the giveaways being handed out at The University of Toledo's women's volleyball matches for the upcoming 2011 campaign.
The promotional slate will kick off with Student/Fan Appreciation Night for the annual Blue-Gold Match Friday, Aug. 19. An iPad will be raffled off to one lucky person with Rocket Shop gift cards also being awarded to fans throughout the evening. Admission is free for the match, which will begin at 7 p.m. in Savage Arena.
The Rockets' Blue-Gold Invitational will offer two promotions. Campers Reunion Night will be held Friday, Aug. 26, against Wright State with any UT camper who wears a 2011 Toledo volleyball camp T-shirt receiving free admission. Team Night is set for the Rockets' match against Oakland Saturday, Aug. 27, with a UT Volleyball Stadium Cup being handed out to the first 250 fans.
Toledo's Rocket Classic will feature a pair of Bowl Championship Series opponents with Alabama and Ohio State as well as two more giveaways. UT's match against the Crimson Tide Friday, Sept. 9, is UT Employee Appreciation Night with all faculty and staff receiving free admission by showing their UT ID at the gate. The first 200 fans will receive a Toledo volleyball bumper sticker. The Rockets' match against the Buckeyes Saturday, Sept. 10, is Gold-Out Night with 250 Toledo volleyball gold T-shirts being handed out. Fans are encouraged to "be bold, wear gold."
The Rockets' conference home opener against Western Michigan Friday, Sept. 30, will be Family Night with a family of four being admitted for $5 and rollabannas being given to the first 200 fans. The following night against Northern Illinois Saturday, Oct. 1, is Ace the Cure for Cancer Night. The first 100 fans will receive an Ace for the Cure T-shirt being provided by The University of Toledo Medical Center.
A Rocket Weekend will be held for UT's matches against Bowling Green and Miami during Homecoming weekend Friday and Saturday, Oct. 21-22. All fans showing a ticket for Toledo's football game vs. Miami will receive free admission. Giveaways for the weekend will be a Toledo volleyball stainless steel mug vs. the Falcons and a frosted pub glass against the RedHawks. Saturday's match against Miami also has been tabbed Girl Scout Day and Alumni Day.
Toledo's matchup against defending Mid-American Conference regular-season champion Ball State Thursday, Oct. 27, will be a White Out Night with 250 Toledo volleyball T-shirts being given away. The Rockets' match against Akron Saturday, Oct. 29, will see 250 Toledo lanyards being handed out to fans.
UT's last regular-season weekend will offer a pair of promotions. A canned food drive will be held on Veterans Day against Central Michigan Friday, Nov. 11, with individuals bringing a nonperishable food item receiving $2 admission. Senior Night is set for Saturday, Nov. 12, vs. Eastern Michigan with seniors Amber DeWeerdt, Kassie Kadera and Cassie Kleespies being honored before the match.
Click here to see Rockets' schedule.