Professor emeritus writes book on his place of birth, a 'Paradise in Peril'
---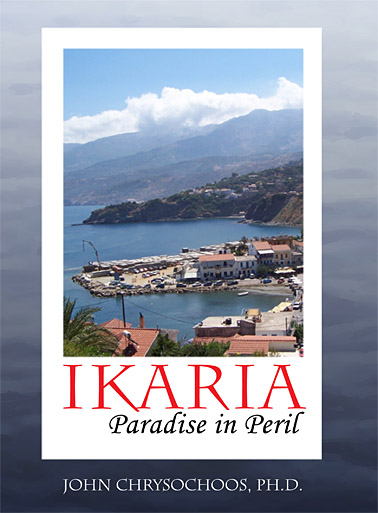 Dr. John Chrysochoos knows the beauty of Ikaria better than most. The University of Toledo professor emeritus of chemistry was born on the Greek island, where he spent his childhood and teenage years.
He discusses the natural wonders of Ikaria and explores the possible destruction or deterioration of the country's natural beauty in his book, Ikaria — Paradise in Peril, which was published by RoseDog Books in November.
"I was born in Ikaria. I visit almost every other year, and I noticed a lot of problems," Chrysochoos said. "I think it is important that other Ikarians know about these problems."
He describes the natural wonders of the island in his book: " … Ikaria has been blessed for thousands of years with dense forests of all kind of trees, rich flora, wild and cultivated fruit trees, and vineyards … countless springs of crystal clear water all over the island … world-famous radioactive hot springs, and many beautiful and idyllic beaches located along the long coastline of the island, some of them sandy and some covered with white and colored smooth pebbles."
Chrysochoos also describes "the celebrated Ikarian hospitality," which strengthens the image of Ikaria as a paradise.
However, the island's beauty is what is putting it in danger, as he writes in the book: "… there are some worrisome signs that such a 'paradise' may be somewhat in peril by some undesirable aspects of excessive tourism, causing concerns to everyone who loves Ikaria deeply, whether living on the island or overseas."
Ikaria — Paradise in Peril describes some of these "undesirable" effects, including poorly planned construction and an increase in water demand, which places a strain on water springs and other natural fresh water sources on the island.
Chrysochoos' love for his birthplace and for the natural beauty of Ikaria is evident both in the book and when he speaks about the island.
"The island, which is located in the central east Aegean Sea, has a very tall mountain, which from far away looks very inhospitable," Chrysochoos said. "Once people started visiting [the island], they were surprised by how beautiful, how untamed it is."
Ikaria — Paradise in Peril is available for purchase at amazon.com and rosedogbookstore.com.