Provide input on facilities master plan
August 19, 2016 |
UToday
By Meghan Cunningham
---
The University of Toledo is looking for your feedback on the guiding principles of the facilities master planning project currently underway.
"These guiding principles will shape the future of UT campuses, and it is important that we hear from everyone affiliated with the University," said Jason Toth, associate vice president for facilities and construction. "We heard during the summer from some members of the UT faculty and staff, as well as the Toledo community, and I'm really hoping that students will provide us their feedback as classes get underway for the new school year."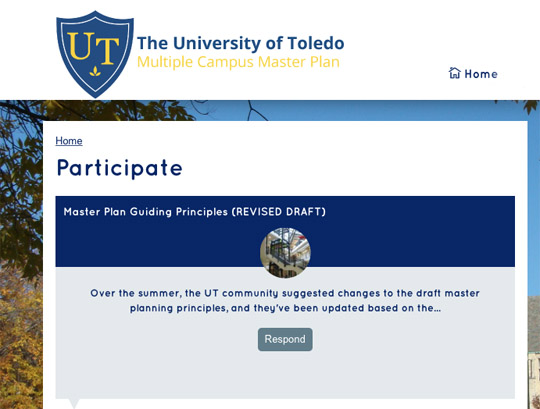 A revised draft of the guiding principles that incorporates that early feedback is posted on the master planning website at utoledomasterplan.org with the ability to comment directly on the site and reply to other posts.
The principles are organized according to categories, including asset stewardship, academics and research, student life experience, campus character, and community interface.
"Of course students are the best source for feedback on the student life experience category, and we need their input there, but in all areas of our plan as well," Toth said.
Feedback on the guiding principles is requested by Friday, Sept. 2.
For the next step in the process, the master planning team is drafting master plan scenarios that will be shared with campus Monday, Sept. 12, and Tuesday, Sept. 13.