New Student Convocation Launches Rocket Welcome Weekend Aug. 27
---
New fall semester. New UToledo students. New Student Convocation.
Scheduled from noon to 1 p.m. Friday, Aug. 27, at Savage Arena, New Student Convocation is the kick-off event for Rocket Welcome Weekend and serves as both a welcome and an introduction for incoming students into the Rocket Family.
Students will have the opportunity to hear from The University of Toledo President Gregory Postel and additional key administrators; to get pumped up by our athletic coaches; and to learn the classic Rocket chants and cheers from fellow student leaders.
"I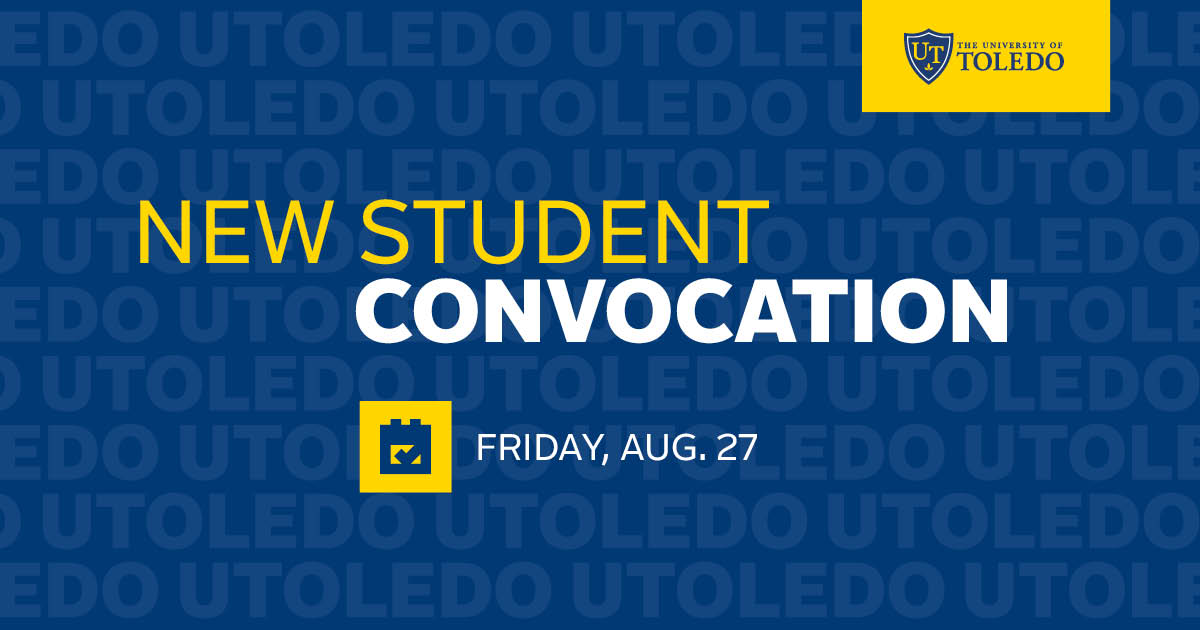 am so excited to welcome a new class of students on to campus," said Anna Walker, Student Government president and a senior majoring in bioengineering.
"After a year and a half of extraordinary circumstances impacting the student experience, it is thrilling to be back on campus and to be able to interact with everyone in person."
Walker will be serving as the Convocation's co-master of ceremonies with Student Government Vice President Grant Epstein.
In addition to Postel, Convocation speakers will include Dr. Karen Bjorkman, provost and executive vice president for academic affairs; Dr. Phillip "Flapp" Cockrell, vice president for student affairs and vice provost; Dr. Linda Lewandowski, dean for the College of Nursing, vice provost and interim inaugural executive director for University Campus Health Services; Jason Candle, football coach; Tricia Cullop, women's basketball coach; Todd Kowalczyk, men's basketball coach; and Isabella Weik, Blue Key president.
"The New Student Convocation is an important event for those new to our Rocket community," Cockrell said. "And it's a wonderful opportunity for The University of Toledo community to not only come together to share our pride, spirit and traditions, but to welcome new Rockets into our growing family."
Members of Blue Key, cheerleaders and Blue Crew will perform the UToledo alma mater, "Fair Toledo," and the University's fight song, "U of Toledo," as well as spirited cheers and chants.
Students also will learn details about picking up their UToledo Rocket Pride Packs, which will include a T-shirt, water bottle, face mask and additional UToledo swag items.
UToledo faculty and staff can help build excitement at the event by being in the lobby of Savage Arena to create a welcome tunnel and to be in the stands to get students excited.
Immediately following the Convocation there we will be a barbecue for both first-year students and returning students from 1 to 3 p.m. at the Flatlands. Faculty and staff also are welcome to come to the barbecue for a free lunch and an opportunity to interact with the students.
The New Student Convocation is one of dozens of Welcome Weeks events scheduled beginning Friday, Aug. 27, through Saturday, Nov. 6, to help kick off the fall semester. For a complete list of activities, visit the Welcome Weeks website or the InvoNet calendar.
And for those interested in volunteering at New Student Convocation and other Welcome Weeks events, time and date registrations are available at the Fall 2021 Division of Student Affairs Programs and Events website.