LifeLine Response EDU mobile phone safety app available free to students
---
A mobile phone application available for free to students at The University of Toledo provides safety features to connect with authorities in case of an emergency.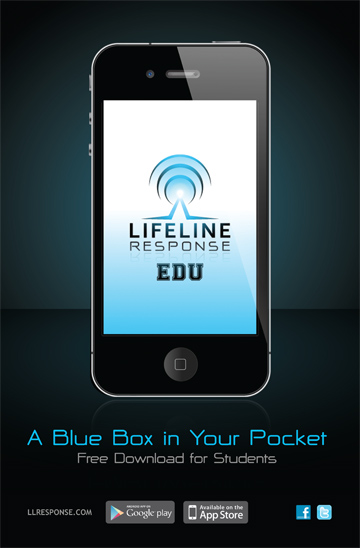 LifeLine Response EDU puts help at your fingertips by immediately notifying LifeLine Response 24/7 Emergency Response Center and sounding an alarm when help is needed. The closest 911 center is notified and will use real-time GPS location to send help.
"All college students these days carry a cell phone, and this application essentially puts the code blue emergency phones on campus right in your pocket to notify authorities if you are ever in need of help," UT Police Chief Jeff Newton said. "The unique safety features in this app add to our overall efforts to provide a safe campus."
LifeLine EDU offers users two modes. In the thumb mode, a user presses his or her thumb down on the smartphone touch screen and can hold it for how ever long he or she feels unsafe, up to 15 minutes. When the thumb leaves the screen, a countdown begins. If the countdown is not disarmed with the user's personal code within seven seconds, an alarm will go off and local police will be contacted.
There also is a timer mode that can be used for longer periods of time or when you need your hands free. If the application is not disarmed when the timer expires, authorities are contacted.
Designated contacts such as friends, family and co-workers also can be added to the application to be informed when LifeLine EDU is activated and give your real-time location.
The application is free to all UT students, faculty and staff when they sign up with their University email addresses. Download LifeLine EDU at llresponse.com/download_edu.html.
Peter Cahill, who founded LifeLine Response, said he developed the app to make people feel safe and get them help as fast as possible.
"It's good for students who are walking on campus late at night from classes or to the gym," he said. "We saw a void in the marketplace for a serious personal safety application; I designed this app specifically to prevent violent crimes and sexual assault. When people find themselves in crisis situations where they often cannot think clearly, LifeLine Response takes human error out of the equation by automatically initiating a distress alert. Police have arrived at the scene in as fast as 69 seconds."
The LifeLine EDU app is the latest in a series of safety initiatives by campus police.
Last year the Text-a-Tip service created an additional tool for people to provide non-emergency information to the UT Police Department by using the smart code 69050 and keyword UTPD followed by a text with their tip. That tool is not best for emergencies, but allows people to conveniently pass along information to police.
The UT ALERT system also uses mobile phones to provide emergency notifications to students, faculty and staff. Sign up for the service at https://stuweb00.utoledo.edu/redalert/ to receive text messages in the event of canceled classes and campus emergencies.
The UT Police Department also keeps an updated website at police.utoledo.edu and is active on Facebook, posting the latest safety information and bulletins.
The University has made significant investments in LED campus lighting, fire signaling, card access to campus buildings, and video surveillance. UT also offers a variety of safety services such as campus Night Watch, providing students a safe escort during the evening hours.