ROTC Invites Students, Employees to Experience Part of Zero Week Aug. 23
August 21, 2019 |
UToday
By Staff
---
Attention: UToledo students and employees are welcome to attend part of Zero Week to see what it's like to be a member of the Army ROTC Program.
"We invite students, faculty and staff to stop by and challenge themselves by participating in one or more of our events," Maj. Colby Pepon, professor and chair of the Military Science and Leadership Department, said. "Please come out and watch and meet our faculty and cadets."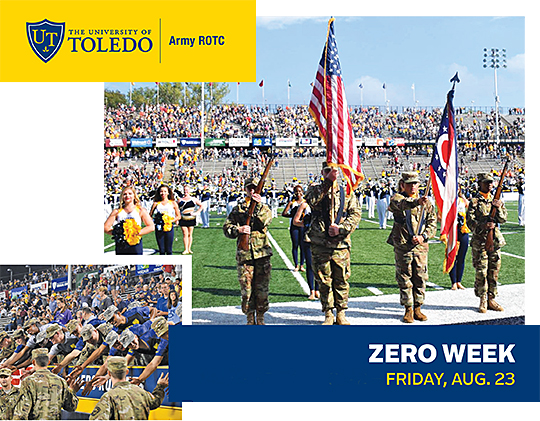 Events planned for Friday, Aug. 23, are:
• Combat Water Survival Test, 6 to 8:30 a.m. at the Health Education Center pool. This Army exercise tests a cadet's stamina in the water. Suit up for a 15-meter swim with a mock rifle, take a three-meter drop with a blindfold, and jump into the water and ditch all equipment before resurfacing.
• Fall kickoff, 12:30 to 2 p.m. at the Health Education Center. Drop by for free food and games, and meet UToledo cadets and Military Science Department faculty and staff.
"We hope our campus community members will take a few minutes to stop by our fall kickoff Friday," Pepon said.
For more information, contact Maj. Gary D. Rabatin, assistant professor of military science, at gary.rabatin@utoledo.edu or 419.530.4693.