Blackboard Ally now available to help with accessibility of online course content
August 23, 2018 |
UToday
By Staff
---
Ally is a new award-winning accessibility tool that integrates directly into The University of Toledo's Blackboard environment.
The new tool, which was purchased by the University in March, was piloted by several UT faculty and staff members during summer semester. Ally is now available to all Blackboard users.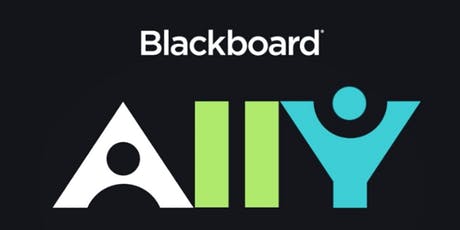 Ally advances UT's commitment to universal design in learning by reducing barriers to instruction, providing flexibility in the ways that information is presented, and providing methods for which students can interact and engage with the information.
With Ally fully enabled, Blackboard users will notice some new features.
When editing courses or organizations in Blackboard, faculty and staff will see small accessibility indicators next to the files posted in their sites. Clicking on an indicator will provide users with specific feedback about the accessibility of that item and, if there are potential actions to be taken, faculty and staff will find guidance on what can be done to improve the accessibility of that content.
Ally will automatically provide several alternative formats for various files in Blackboard courses for students, faculty and staff. Some of the new alternative formats available include audio (mp3), electronic braille, tagged PDF, ePub, and semantic HTML. While the original document in the class serves as the official course material, the alternative versions serve as additional study aids and can benefit students' diverse learning styles.
Faculty workshops for Ally are available. See UT Online's faculty course and workshop listings for more information and to register; click here.
UT Online is developing online guides for Ally. For now, instructors and students can view help resources provided by Blackboard at Ally Help for Instructors and Ally Help for Students.
If you have questions or would like to learn more about Blackboard Ally, contact the UT Online Help Desk at 419.530.8835.