New food app comes to campus
August 26, 2019 |
UToday
By Alexis Razo
---
As students return to school this fall, Grubhub Campus Dining will be the new way to order ahead from on-campus dining locations.
Grubhub lets students, faculty and staff mobile order from their favorite dining locations on campus, get real-time updates, and pick up their orders on the go. Accepting locations are Starbucks, Subway, Steak 'n Shake, Croutonz, Oath Pizza, Java City and Agave.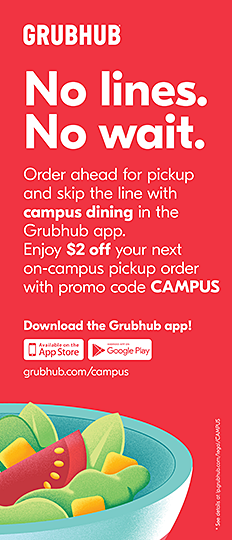 "The migration to Grubhub Campus Dining was implemented based on feedback from students and campuses across the country," said Cameron McAdams, resident district manager of UToledo Dining Services. "Grubhub Campus Dining was piloted on select campuses last spring to solicit feedback and address any issues before the wider release this fall."
Grubhub Campus Dining is accessed through the Grubhub app and offers all of the features students have come to expect from Tapingo to provide the best possible digital campus dining experience, McAdams added.
It's easy to switch from Tapingo to Grubhub. First, download the Grubhub app and sign up. Once downloaded, go to my Grubhub, settings, campus dining, and then select The University of Toledo. Students, faculty and staff can use any credit card, bank card or their Rocket Card to place orders.
Receive $2 off your first on-campus pickup order of the season with the promo code CAMPUS.
For more information, visit the UToledo Grubhub website.